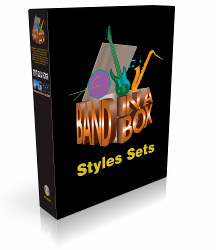 MIDI Styles Set 77: UK Pop
20 great UK Pop styles for Band-in-a-Box and RealBand! Inspired by some of the greatest grooves and sounds to come out of British Rock groups, the styles in Styles Set 77: UK Pop cover Reggae-Rock, Ska-Reggae, Straight-ahead Rock, Jazz-Pop, Ambient Pop, and much more! Rhythmic feels include slow, medium and fast tempos, even and swung 8ths, waltzes, and 6/8 meter styles.
Celebrate -UKPop Medium Rocker [CELEBRTE.STY]

Medium Rocker, 4/4 featuring 16th note muted electric guitar, with organ pads. Bass & Drms play basic Rock beat. Tempo=80-150

Enlighten -Bright 6/8 UKPop [ENLITEN.STY]

Bright 6/8 Ambient Pop Rock with piano, Clean electric guitar, Fretless bass (more active at B), Warm Pad. T=150-220

Exodus -UKPop Ska/Reggae [EXODUS.STY]

Ska/Reggae to Rock4/4 style. Accordian, clean electric guitar 'off-beats', with classic Reggae picked bass. T=100-140

London -Medium UKPop Rock [LONDON.STY]

Toms, Fretless Bass 8ths (doubled by synth bass), repetitive 2 bar clean Electric guitar pattern, organ pad. T=80-130

RockSteady -UKPop Rock Trio [RCKSTDY+.STY]

Ska-inspired Rock Feel, Rock Trio MultiStyle with 4 sections A, B(drums switch to ride/snare), C(no electric bass), D(more intensity). T=90-150

Refugee -Mysterious UKPop Rock [REFUGEE.STY]

At 'A,' Piano chords & Fretless on beat 1 and the 'and of 2.' Percussion plays on 2 & 4. Switches to punk/new wave rock at B. T=90-140

Selektah -UKPop Slow Reggae Rock [SELEKTAH.STY]

Slow 16ths based Reggae Rock w/ Picked El. Bass, and 2 El. gtrs (one plays off-beat reggae pattern, other plays chord fills). T=60-110

ThrdWrld -UK Reggae Rock [THRDWRLD.STY]

Mysterious sounding Reggae Rock style in 4/4, switches to full rock feel at the 'B'. T=80-140

UKBigRock -Piano Driven Rock [UKBIGROK.STY]

Piano driven intense ambient rock style. Piano 8th note figure, Electric bass plays 8th's, drums play driving 8th note rock pattern. T=90-140

UKBlue -Mellow at A, Rock at B [UKBLUE.STY]

This Rock Style has 2 very different sections: mellow (soft drums) at 'A' with lush strings, to Full On Rock at 'B' with overdrive guitar. T=80-140

UKCrunch -Loud and Brazen Rock [UKCRUNCH.STY]

Loud and Brazen Rock. Hyperactive drumming and 8th note psychedelic organ part. Overdrive Guitar plays 'crunchy' figures. T=110-140

UKGroove -Upbeat Pop Rock [UKGROOVE.STY]

Upbeat Pop Rock. Muted Electric guitar 8th notes/Clean Electric Guitar plays an ambient part. Synth Bass & Kick Drum play similar 2 bar pattern. Add Piano RH 8ths at 'B'. T=90-150

UKMood -Acoustic 6/8 Rock [UKMOOD.STY]

Acoustic 6/8 Rock. 12-String Guitar apreggios, Acoustic 6-String arpeggios. Electric Bass plays simple part, Drums fairly active. At 'B' add low synth bass notes, drums more active. T=100-180

UKPop66 -Bright Shuffle Rock Pop [UKPOP66.STY]

Bright Shuffle Rock Pop. Features bouncy quarter note piano chords, Overdrive Guitar, simple Electric Bass, Drums with HiHat. T=100-150

UKPowerBallad -Loose Slow Rock [UKPWRBAL.STY]

Loose Slow Rock. Acoustic Guitar strumming, Orchestral strings, Electric Bass. Add Brass pads & shots at 'B'. T=60-100

UKPowerPop -Loud Intense Rock [UKPWRPOP.STY]

Loud Intense Rock. Loud 16th-based rock, Drms (4 on the floor kick pattern), Clean Electric Guitar, Picked Electric Bass, Overdrive Guitar, Poly synth plays low 8th notes. T=90-140

UKReggae -UKPop 80's style Regga [UKREGGAE.STY]

80's style Reggae. Active and syncopated drums, with ambient pads & guitar "sprays" at A. T=90-150

UKRide -Agressive Ska-Rock [UKRIDE.STY]

Agressive Ska-Rock. At 'A', Drms play '4 on the floor', with sidestick on 3. Fretless Bass plays pumping 8th notes. Clean Electric Guitar plays single note figure. At 'B', more conventional Rock. T=110-160

UKRose -Ambient 3/4 Jazz Waltz P [UKROSE.STY]

Ambient 3/4 Jazz Waltz Pop. Synth Bass, Drums, Jazz Guitar (plays simple patterns at 'A', switching to more rhythmical comping patterns at 'B'). T=110-160

UKSway -90's Bright Ambient Pop [UKSWAY.STY]

90's Bright Ambient Pop. Warm Pad, Slap Bass plays 16th note figure, Drums play pop 8th's. At 'B' add clean electric guitar, higher pad, Acoustic Piano. T=80-120
30 Day Money Back Guarantee
Unconditional 30-Day Money Back Guarantee on all products purchased from PG Music Inc.
Contact Info
PG Music Inc.
29 Cadillac Ave Victoria BC Canada V8Z 1T3
Sales: 800-268-6272, 250-475-2874,
+ 800-4746-8742*
Tech Support: 866-983-2474, 250-475-2708, + 800-4746-8742*
* Outside USA & Canada where International Freephone service is available. Access Codes