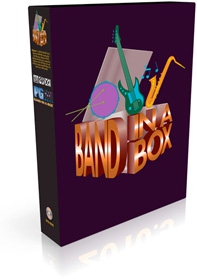 System Requirements
This Version of Band-in-a-Box for Mac is built for OS X 10.2 ‐ 10.6 and runs on PowerPC based computers.
Rosetta must be installed in order to run Band-in-a-Box 12 on Intel Macs. More information is available here.
OS X only. It will not run on OS 9 or earlier. We have an earlier version 11 that runs on OS 9.
30 Day Money Back Guarantee
Unconditional 30-Day Money Back Guarantee on all products purchased from PG Music Inc.
Contact Info
PG Music Inc.
29 Cadillac Ave Victoria BC Canada V8Z 1T3
Sales: 800-268-6272, 250-475-2874,
+ 800-4746-8742*
Tech Support: 866-983-2474, 250-475-2708, + 800-4746-8742*
* Outside USA & Canada where International Freephone service is available. Access Codes
Featured Demos
"Cool" Smooth Jazz
Swing 16th Smooth Jazz featuring the Rhythm Electric Guitar and Electric Piano soloist from RealTracks Set 93 Listen >>
Samba nylon guitar solo
Backed up by Piano & Acoustic Bass RealTracks (Set 94), and Samba RealDrums (Set 5). The chordal movement in this demo is fairly quick! Listen >>