Band-in-a-Box 2017 New Feature - sforzando SFZ Synth
We've added a new VST Synthesizer, with support for popular .SFZ sound format, as well as PG Music's Hi-Q sounds. Many sounds that have been developed with the .SFZ format are available on the internet, and are ready to play with Band-in-a-Box using this synth. Your existing Band-in-a-Box Hi-Q sounds will play using this synthesizer, so previous songs or styles you made will play with this new synth. This synth is installed with Band-in-a-Box, and is ready to play and does not require configuration.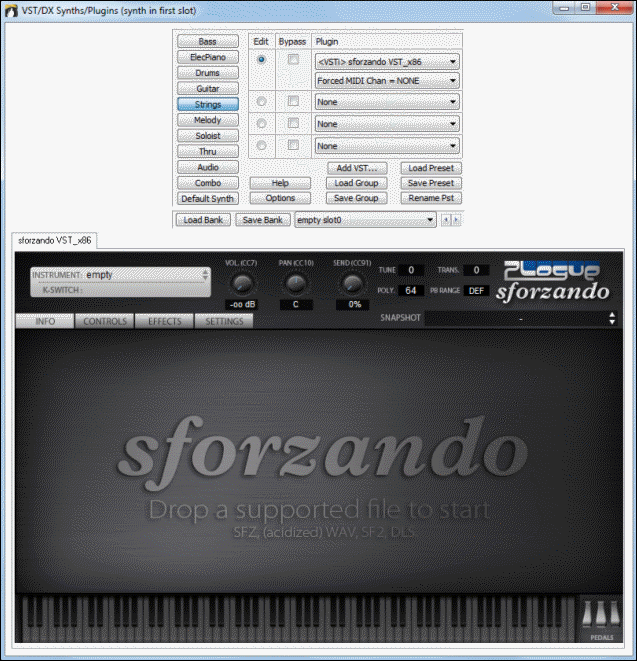 Most of the interaction between Band-in-a-Box and the sforzando synth will be behind-the-scenes, so you don't need to do anything. Just "pick a style and press play" as usual. This is because the styles that need to use the synth are coded to do so in the style, using the Hi-Q patch.


If you want to add a specific Hi-Q sound, right click on the track button and go to Select MIDI Instrument (Patch) | Select Hi-Q MIDI Synth Patch.

This will display a list of available Hi-Q sounds.

When you choose a Hi-Q sound from the list, sforzando will be loaded, with the Hi-Q instrument.

If you want to use a custom sound, such as a .SFZ sound that you have acquired, then you can launch the sforzando synth on the track that you want, by clicking on the Mixer's [Plugin] tab and then selecting sforzando. (Note that you need to pick a MIDI track for this, not a "green" audio track.)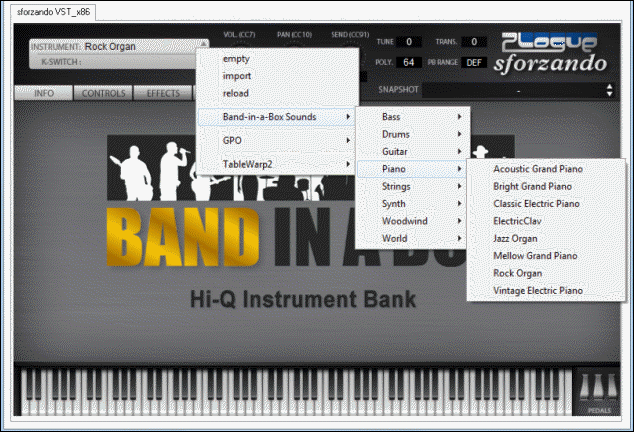 30 Day Money Back Guarantee
Unconditional 30-Day Money Back Guarantee on all products purchased from PG Music Inc.
Contact Info
PG Music Inc.
29 Cadillac Ave Victoria BC Canada V8Z 1T3
Sales: 800-268-6272, 250-475-2874,
+ 800-4746-8742*
Tech Support: 866-983-2474, 250-475-2708, + 800-4746-8742*
* Outside USA & Canada where International Freephone service is available. Access Codes
Q: How do I get the latest version of Band-in-a-Box?
A: We have packages for first-time or existing customers. Use the convenient chart to find the right package for you.
Q: If I purchase the UltraPlusPAK or EverythingPAK, do I really get a free USB Hard Drive for no additional charge?
A: Yes, Band-in-a-Box is pre-installed on a hard drive. You can use it directly from the hard disk, or copy it to your computer.

Online now
Need Help?