Video Demo

Welcome to The Blues Pianist
In this video, we give you an overview of the Blues Pianist.
Audio Demo
C Boogie
C Boogie is played with a straight eighth feel in the key of C. This Chicago boogie style is reminiscent of players like Jimmie Ansee, Albert Ammons and Otis Span. This is a hard drivin', even feel boogie. Performed by Doc Fingers.
30 Day Money Back Guarantee
Unconditional 30-Day Money Back Guarantee on all products purchased from PG Music Inc.
Featured Product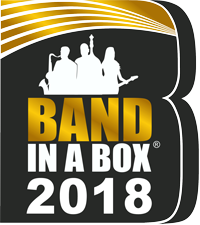 Band-in-a-Box 2018 for Windows! Buy and download now! >>

BUY The Blues Pianist and DOWNLOAD NOW! $49
PG Music Inc. 29 Cadillac Ave Victoria BC V8Z 1T3 Canada
Sales: 1-800-268-6272, 250-475-2874, + 800-4746-8742*
*Outside USA and Canada where International Freephone service is available.