The demo is fully functional for 30 days after you install it. Once you have decided to purchase Coyote ForteDXi, it may be purchased through PG Music's online payment system. The registration fee is $40 US, and this entitles you to technical support from Coyote's responsive support staff.
After purchasing ForteDXi a registration key will be sent to you by email.
Featured Product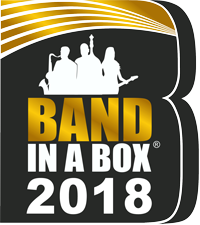 Band-in-a-Box 2018 for Windows! Buy and download now! >>
30 Day Money Back Guarantee
Unconditional 30-Day Money Back Guarantee on all products purchased from PG Music Inc.
PG Music Inc. 29 Cadillac Ave Victoria BC V8Z 1T3 Canada
Sales: 1-800-268-6272, 250-475-2874, + 800-4746-8742*
*Outside USA and Canada where International Freephone service is available.