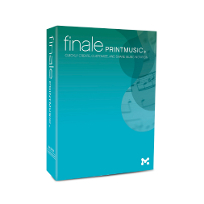 Finale PrintMusic

Finale PrintMusic and Band-in-a-Box® for Windows Bundles
Pro Bundle

Includes: Band-in-a-Box

®

Pro and RealBand,

Pro RealCombos

, 46 MIDI SuperTracks, 400+ MIDI, Styles, 100+ MIDI Soloists, 60+ MIDI Melodists, 21 Nature Sounds and Percussion Loops, 22 Artist Performances, and 1,000 Dubstep, Modern and Top 40 Loops.

MegaPAK Bundle

Includes Band-in-a-Box

®

MegaPAK with RealBand, which contains: the

MegaPAK RealCombos

, 96 MIDI SuperTracks, 2,000+ MIDI Styles, 300+ MIDI Soloists, 200+ MIDI Melodists, 21 Nature Sounds and Percussion Loops, 62 Artist Performances, and 1,000 Dubstep, Modern and Top 40 Loops.

UltraPlusPAK Bundle

Includes the Band-in-a-Box® UltraPlusPAK with RealBand, which contains: Over 2,200 RealTracks, 175+ MIDI SuperTracks, 2,000+ MIDI Styles, 300+ MIDI Soloists, 200+ MIDI Melodists, 21 Nature Sounds and Percussion Loops, 140+ Artist Performances, and 1,000 Dubstep, Modern and Top 40 Loops.

EverythingPAK Bundle

Includes the Band-in-a-Box

®

EverythingPAK with RealBand, which contains: Over 2,200 RealTracks, 175+ MIDI SuperTracks, 2,000+ MIDI Styles, 300+ MIDI Soloists, 200+ MIDI Melodists, 21 Nature Sounds and Percussion Loops, 140+ Artist Performances, 1,000 Dubstep, Modern and Top 40 Loops, the Video Tutorial PAK, and the

Songs & Lessons PAK.

The Songs & Lessons PAK adds
25 additional Add-ons:

101 Essential Phrases & Riffs Series
50 Country Guitar Solos
200 Folk Songs
50 Novelty Piano Riffs
Fakebooks
CopyMe
Duets
Master Swingin′ Jazz Piano Solos
Master Blues Piano Solos
Master Jazz Guitar Solos Vol. 1-4
Master Flatpick Guitar Solos
PowerTracks Pro Bundle

Includes: PowerTracks Pro Audio and RealDrums Sets 1-3.

PowerTracks PowerPAK Bundle

Includes: the PowerTracks Pro Audio PowerPAK and RealDrums Sets 1-10.

PowerTracks MultiPAK Bundle

Includes the PowerTracks Pro Audio MultiPAK, RealDrums Sets 1-29 (ALL!), and MultiTracks Volumes 1 & 2.
30 Day Money Back Guarantee
Unconditional 30-Day Money Back Guarantee on all products purchased from PG Music Inc.
Featured Product

Band-in-a-Box 2017 for Windows is here! Buy and download now! >>
PG Music Inc. 29 Cadillac Ave Victoria BC V8Z 1T3 Canada
Sales: 1-800-268-6272, 250-475-2874, + 800-4746-8742*
*Outside USA and Canada where International Freephone service is available.