Band-in-a-Box® for Mac (version 2016 or higher) has support for 64-bit VST Plugins using jBridge.
You can use your 64-bit VST plugins and VSTi instruments with Band-in-a-Box®. With jBridge installed, you just use your plugins as you normally would, by selecting 32-bit or 64-bit plugins within the program.
jBridge is a third party product. Purchase jBridge from PG Music at the special price of $10 if you have purchased a Band-in-a-Box®2016 or higher program or update .
There is more info about jBridge and free demos at jstuff.wordpress.com/jbridgem/
jBridge supports Mac OS 10.6 - 10.13. You should try one of the demos on the jBridge site to make sure it works on your system.
30 Day Money Back Guarantee
Unconditional 30-Day Money Back Guarantee on all products purchased from PG Music Inc.
Featured Product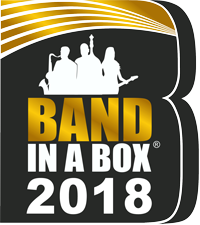 Band-in-a-Box 2018 for Windows! Buy and download now! >>
PG Music Inc. 29 Cadillac Ave Victoria BC V8Z 1T3 Canada
Sales: 1-800-268-6272, 250-475-2874, + 800-4746-8742*
*Outside USA and Canada where International Freephone service is available.