Audio Demo
Trucker's Ball
Another original Truck Driver - type tune. The Melody is based around one of the classic licks, a movable position "boogie" riff. Yet another typical movable lick turns up in bar 33, and winds through to another typical lick which ends on the downbeat of 39. For more of this kind of guitar playing, check out recordings by Dave Dudley and Dick Curless.
Featured Product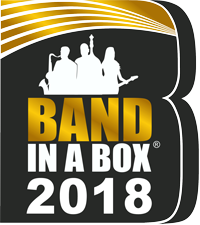 Band-in-a-Box 2018 for Windows! Buy and download now! >>
30 Day Money Back Guarantee
Unconditional 30-Day Money Back Guarantee on all products purchased from PG Music Inc.
PG Music Inc. 29 Cadillac Ave Victoria BC V8Z 1T3 Canada
Sales: 1-800-268-6272, 250-475-2874, + 800-4746-8742*
*Outside USA and Canada where International Freephone service is available.