Video Demo

Welcome to The Modern Jazz Pianist
In this video, Peter Gannon introduces you to the Modern Jazz Pianist
Audio Demo
One Look
This tune was composed by Brad Turner. The style of the tune and the performance here displays a definite Keith Jarrett influence. Notice in the un-busy playing, the chord clusters are allowed to ring.
30 Day Money Back Guarantee
Unconditional 30-Day Money Back Guarantee on all products purchased from PG Music Inc.
Featured Product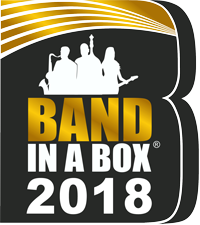 Band-in-a-Box 2018 for Windows! Buy and download now! >>
PG Music Inc. 29 Cadillac Ave Victoria BC V8Z 1T3 Canada
Sales: 1-800-268-6272, 250-475-2874, + 800-4746-8742*
*Outside USA and Canada where International Freephone service is available.