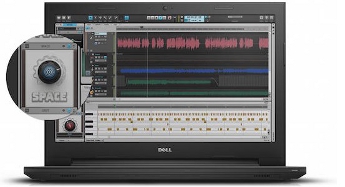 Cakewalk Music Creator 7
No musical experience? No worries. Music Creator 7 is the fun, easy, and fast way to create original music or remix your favorite songs. Transform any Windows 7 or 8 computer into your own personal music studio with all the tools, loops, instruments, and effects you need to create, edit, and mix great music.
Music Creator 7 includes 6 realistic virtual instruments that can help you reach the full potential of your song ideas. The Studio Instruments Suite features four different instruments that create the perfect band: Bass, Electric Piano, Drums, and Strings. What's more, Roland's TTS-1 synth includes genuine Roland sounds ‐ everything from synthesizers to orchestral strings. And, Cakewalk Sound Center includes over 150 instruments!
Music Creator 7 makes it even easier to produce exceptional tracks thanks to the integrated MixStrip, one-knob "Style Dial FX" for shaping your sound, touch screen compatibility, and VST3 plug-in standard support ‐ so you can use cutting-edge instruments and effects from Cakewalk and dozens of other manufacturers. Then, when you're ready to share your music with the world, post your music on Facebook and Twitter with SoundCloud.
Featured in Music Creator Version 7:

Seamlessly create, record, edit, and mix your music using the Award-winning Skylight user interface
Access all your most important controls using the Hi-Def Control Bar with more harmonious spacing, labeling, and dynamic resizing
Create your own MIDI parts with the new virtual onscreen MIDI controller with touch support, or your QWERTY keyboard ‐ great for mobile music making
Get creative with 32 audio tracks and 8 instrument tracks, and 128 MIDI tracks
Support for 8 inputs and 8 outputs simultaneously
Support for the latest VST3 instruments and effects
A complete backing band with 6 virtual instruments (including the entire Studio Instruments Suite)
Mix like a pro with the integrated MixStrip, which includes Curve EQ and new Style Dial FX for one knob access to commonly used effects
Mix with all the must-have effects including reverb, EQ, and more
Plug in your guitar and rock out with Overloud's TH2 Creator guitar amp simulator
Enhanced MIDI editing includes a new Piano Roll View and time-saving Pattern tool for painting MIDI parts
Create the perfect performance from multiple takes using the new comp tool
Create beats and drum tracks with the integrated Step Sequencer
Trigger audio and MIDI loops for real-time performance and remixing with the Matrix View
Custom modern loops designed by Loopmasters
Easily drag and drop loops, instruments, effects, and track templates from the built-in Browser
Plus! Use any Windows 8 touch-enabled device to control the software with your fingers
Record Audio and MIDI. Whether you play guitar, piano, bass, or sing, recording your songs has never been easier. Just plug in directly to your computer or Windows-compatible audio interface, hit record, and start capturing your musical ideas. Then use the Skylight user interface to arrange, edit, and mix your music. Music Creator 7 even includes project templates and videos to get you up and running quickly.
Hi-Def Control Bar.Regardless of screen size, the new Hi-Def Control Bar makes it even easier to access your most frequently used controls. With clearer text, and better auto spacing, the new Control Bar makes creating music an absolute joy on the eyes. And with dynamic resizing, your Control Bar will always look good regardless of your PC screen's resolution.
Virtual Onscreen Controller. Programming MIDI synth lines and beats has never been more fun, thanks to the new onscreen virtual MIDI controller ‐ play your parts right from your touch screen with any multi-touch compatible monitor or PC. You can also use any QWERTY keyboard, so you don't need to carry around a separate hardware MIDI controller.
the MixStrip. Dial in a masterful mix. The new MixStrip, integrated directly into Music Creator's Track View, makes it easy to achieve superior mixes in less time. The MixStrip includes the built-in, high-quality Curve EQ on every track, and the new Style Dial FX offer speedy, one-knob access to the most commonly used effects.
Guitar Amp and Effects. Overloud's TH2 Creator brings acclaimed amp modeling technology to Music Creator 7. Whether you want a bone-crushing riff, shimmering rhythm part, or blistering lead, TH2 Creator's 3 amps, 4 cabinets, 5 pedals, and mics dish out the big, lifelike tones and expressive playability you crave. Plug in, turn up, rock out ‐ or throw on headphones and record anytime, anywhere.
Enter the Matrix. Load your audio and MIDI loops, phrases, and one-shots into cells and columns, then trigger them in real time ‐ it's like merging performing and recording. Best of all, it's fun: Whether you're composing new arrangements, creating remixes on the fly, or just getting out of a creative rut, the Matrix is the answer ‐ and you can capture the entire performance onto tracks in Music Creator. Tweak it, mix it, and arrange it until it's exactly what you want.
Improved Audio Editing. Music Creator 7 now features Cakewalk's unique "speed comping," so you can assemble a perfect performance from multiple takes with a simple swipe of the mouse ‐ ideal for vocals and guitar solos. And you'll be clicking less than ever thanks to the Smart Tool, which adapts to your workflow‐whether you're editing audio or MIDI data. Also, editing is a snap with the Smart Grid ‐ which automatically sets the snap resolution and visual grid line to match the current zoom level.
Enhanced MIDI Editing. The only variable separating you from your creativity is time, and the Pattern Tool ‐ which sits in the Smart Tool palette for instant access ‐ is all about saving time. Forget cut and paste: Simply select and paint MIDI loops and patterns across the Piano Roll View and Track View. In addition, Music Creator now allows for MIDI time-stretching, velocity layering, and additional functionality to simplify MIDI editing even further. And it's all wrapped in a brand new Piano Roll View with improved zoom that makes editing MIDI a piece of cake.
Step Sequencer. From minimal to maniacal, build beats in classic fashion with Music Creator 7's groove-churning Step Sequencer. Move fast with Auto Populate, then tweak patterns down to their very core with per-lane and per-step flam, offset, swing, and probability control. Launch it from any softsynth window, and immediately start creating rhythm patterns that do mean a thing.
Pro Mixing at Your Fingertips. Control volume, pan, EQ, effects and more using Music Creator's Console View ‐ a faithful emulation of the hardware-based, vintage mixing consoles that are the heart of professional studios. See your tracks and levels at a glance, and take advantage of built-in EQ on every track ‐ as well as 18 audio and MIDI effects ‐ to hone the perfect sound.
Featured Product

Band-in-a-Box 2017 for Windows is here! Buy and download now! >>
30 Day Money Back Guarantee
Unconditional 30-Day Money Back Guarantee on all products purchased from PG Music Inc.
PG Music Inc. 29 Cadillac Ave Victoria BC V8Z 1T3 Canada
Sales: 1-800-268-6272, 250-475-2874, + 800-4746-8742*
*Outside USA and Canada where International Freephone service is available.