System Requirements for Windows:
Windows®: XP ⁄ Vista ⁄ 7 ⁄ 8 ⁄ 8.1 ⁄ 10 (32 or 64-bit)
Minimum 128 MB RAM
75 MB hard disk space minimum, plus about 100 MB per RealDrums Set. Digital audio recording requires more hard disk space, about 10 MB per minute of recording.
Sound card or MIDI module
30 Day Money Back Guarantee
Unconditional 30-Day Money Back Guarantee on all products purchased from PG Music Inc.
Featured Product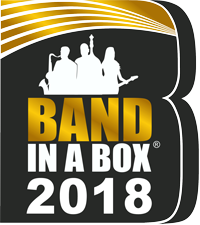 Band-in-a-Box 2018 for Windows! Buy and download now! >>
PG Music Inc. 29 Cadillac Ave Victoria BC V8Z 1T3 Canada
Sales: 1-800-268-6272, 250-475-2874, + 800-4746-8742*
*Outside USA and Canada where International Freephone service is available.

Online now
Need Help?