Video Demo Coming Soon!
Here's what people are saying about eMedia's Earmaster Pro:
"This is a terrific program... It is very well-designed and can be used by students of all ages."
– Michelle Gordon, American Music Teacher Magazine
"An excellent ear training tool"
– Teaching Music Magazine
"I've never used a better ear training software than EarMaster!"
– KC Lau, Pianologist.com
"EarMaster Pro 5 is an incredible resource for musicians of all levels and genres. An excellent tool for both self-guided study and as a resource in the class room."
– Guitar International
"I was a music theory major in college and the EarMaster program is just as comprehensive as many of the classes I took at the university."
– Fretterverse.com
"Many people might say that a computer cannot replace human beings, but EarMaster certainly comes close in many ways. Given the nature of our discipline and the large amount of practice required, EarMaster is a patient and non-judgmental teacher."
– Dr. David Ehrke, Professor of Music, University of Nevada, Reno
Featured Product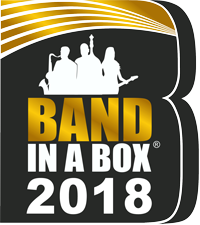 Band-in-a-Box 2018 for Windows! Buy and download now! >>
30 Day Money Back Guarantee
Unconditional 30-Day Money Back Guarantee on all products purchased from PG Music Inc.
PG Music Inc. 29 Cadillac Ave Victoria BC V8Z 1T3 Canada
Sales: 1-800-268-6272, 250-475-2874, + 800-4746-8742*
*Outside USA and Canada where International Freephone service is available.