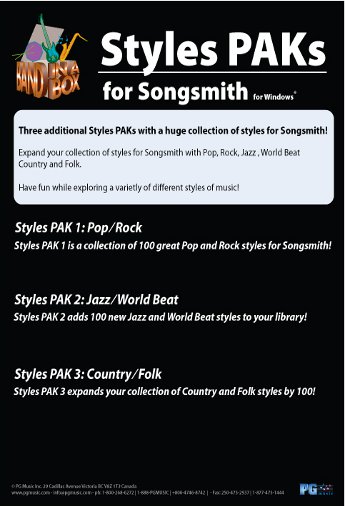 Styles PAKs for Songsmith
Expand the set of styles you can work with in Songsmith by purchasing our "Styles Paks", each of which contains a huge collection of new styles.
Just purchase a Styles Pak from this page - you′ll be able to download and install it immediately, and Songsmith will automatically find your new styles!
Styles PAK 1: Pop ⁄ Rock
Styles PAK 1 is a collection of 100 great Pop and Rock styles for Songsmith!
Pop ⁄ Rock styles can incorporate many different genres of music, which is reflected in this collection with a broad spectrum of Classic and Contemporary Rock and Pop grooves.
The Contemporary Rock grooves range from the commercially successful off-center styles of Alternative Rock to down-tempo, Jazz-inflected Trip Hop. Fresh contemporary Pop styles with strong recognizable rhythms and catchy refrains are a tribute to the best Pop music on the radio today.
There are styles with a Jazz approach and flavor, and others inspired by some of the greatest grooves and sounds to come out of British Rock groups. Rhythmic feels include slow ballads, medium and fast tempos, even and swung 8ths, and waltzes.
Styles PAK 2: Jazz ⁄ World Beat
Styles PAK 2 adds 100 new Jazz and World Beat styles to your Songsmith library!
Jazz highlights of this exciting collection include Vintage Jazz sounds of the 30s, 40s & 50s, and Modern Jazz styles with a heavy emphasis on contemporary piano, bass and drum techniques.
There are also World styles, inspired by music from around the globe, and authentic Latin Salsa styles with both traditional and modern approaches. Tempos range from slow Ballads to up-tempo, in 4 ⁄ 4 and 3 ⁄ 4 meters, in even 8th, Swing and Latin feels.
Styles PAK 3: Country ⁄ Folk
Styles PAK 3 expands your collection of Country and Folk styles by 100!
This collection features both Classic and Contemporary Country sounds. Classic Country highlights include up-tempo fast pickin′ guitar styles, Classic Country Shuffles, Train beat, Country honky-tonk, and Rockabilly.
Many of the Contemporary Country styles bridge the gap between the Country and Rock genres, with both up-tempo Rock as well as sparse and uncluttered contemporary Country ballads.
Tempos range from slow Ballads to up-tempo Rock, in 4 ⁄ 4 and 3 ⁄ 4 meters, and even and swing 8th feels.
Have fun exploring whole new styles of music!
Featured Product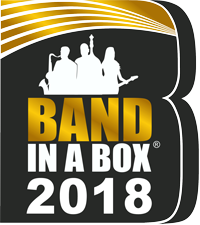 Band-in-a-Box 2018 for Windows! Buy and download now! >>
30 Day Money Back Guarantee
Unconditional 30-Day Money Back Guarantee on all products purchased from PG Music Inc.

BUY Styles PAKs for Songsmith And DOWNLOAD NOW! $29 each OR get all 3 Sets for just $69
PG Music Inc. 29 Cadillac Ave Victoria BC V8Z 1T3 Canada
Sales: 1-800-268-6272, 250-475-2874, + 800-4746-8742*
*Outside USA and Canada where International Freephone service is available.