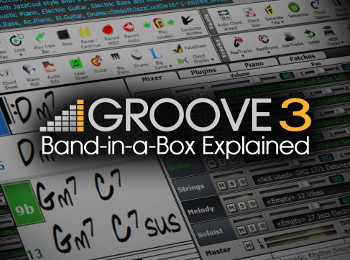 Video: Band-in-a-Box®2014 for Mac Explained
Get up and running fast and start making ultra-realistic backing tracks easily for your songs today!
Eli starts with the basics covering Terminology, MIDI Setup, Main Screen Overview and How to Load & Play Songs. Next, Eli goes deeper into Creating Songs with videos on Starting a Song, Framing Your Song, Entering & Displaying Chords, as well as Alternate Chord Entry Methods.
Creating Arrangements is then explained and Eli covers Rests, Shots & Holds, Pushes, the Chord Settings Dialog, Auto Generated Intros, Part Markers & SubStyles, Song Settings, Chordsheets and much more!
Eli then reveals the numerous Styles available in Band-in-a-Box®and how to use them. You'll learn all about the StylePicker, MultiStyles, MIDI SuperTracks, RealTracks and more. Eli wraps up this super series with videos on Working with Tracks, featuring Track & Thru Settings, Melodies & Solos, The Melodist and Notation Basics.
As a bonus, Eli gives you a video entitled "Band Outside The Box" which covers the various ways of getting your tracks and performances out of BIAB as either Audio or MIDI files! If you're new to Band-in-a-Box®or just want to go a little deeper into it, this series is a must see... Get "BIAB 2014 for Mac Explained" today!
Video Highlights

30 Tutorials / 2 hrs 49 min Total Runtime
For all beginner to intermediate PG Music Band-in-a-Box®users
Tutorials written by Apple Logic Certified Pro Eli Krantzberg
Simple to use video control interface for Mac & PC
Watch Online, Download, Stream to iPad, iPhone & iPod
30 Day Money Back Guarantee
Unconditional 30-Day Money Back Guarantee on all products purchased from PG Music Inc.
Contact Info
PG Music Inc.
29 Cadillac Ave Victoria BC Canada V8Z 1T3
Sales: 800-268-6272, 250-475-2874,+ 800-4746-8742*
* Outside USA & Canada where International Freephone service is available. Access Codes
Tech Support: Live Chat, support@pgmusic.com

Online now
Need Help?
Message from PGMusic.com sales and support team
Hi, have any questions? We're available to text chat.
Message from PGMusic.com sales and support team
Hi, have any questions? We're available to text chat.