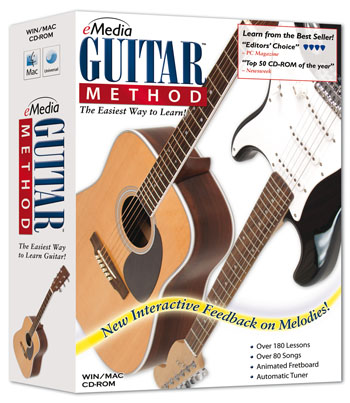 eMedia Guitar Method Vol. 1 (v 5.0)
eMedia Guitar Method version 5 offers the most comfortable and easy-to-use interface of all, with lessons and instructional videos that expand to full-screen and special enhancements throughout. Your new software includes powerful, new interactive feedback on melodies and a full complement of helpful tools that take advantage of this new feature, such as the new Note Tracker and Finger Tracker, which show you what you′re playing in staff notation and also on an animated fretboard. This amazing technology tracks your progress through the song as you play!
eMedia Guitar Method makes learning fun regardless of the type of guitar you own. Learn conveniently at home with over 180 comprehensive lessons covering everything from the basics through chord strumming, rock styles, playing melodies, and fingerpicking. Over 70 songs include hits from artists such as Bob Dylan and Steve Miller. Watch more than 50 high-quality, remastered videos featuring instructor Kevin Garry, Ph.D., including split-screens and close-ups of both hands. Songs and exercises can be heard either as live recorded audio or as MIDI tracks that you can slow down or speed up. Both guitar tablature and standard music notation are taught in a way that′s easy to understand. The excellent teaching combined with the powerful and effective technology offered in this method will get you playing quickly and enthusiastically!
Features:
New Instant Feedback on Your Playing!
Instant Feedback shows you when you play the correct notes on your guitar as you progress through an exercise. With a microphone connected to your computer and a guitar in your hands, play the notes in the exercise (or song) on any screen featuring the "ear" icon in the upper right corner and the computer will highlight the notes for you in green. As you reach your goals of getting all notes to change color in each exercise, you′ll discover that reading tablature and music notation is easier than you ever thought possible!
New Note and Finger Tracker!
The Note Tracker and Finger Tracker tools help you see more easily what note you′re playing by displaying the note as music notation and on an animated fretboard. You′ll be able to correct your playing quickly and learn to read music fast!
New Interactive Flash Card Quizzes!
After you′ve been prepped with exercises designed to teach you to read tablature and notation, try the interactive flash card quizzes to reinforce what you have learned. Flash Quizzes utilize our Pitch Tracking technology to detect notes played on your acoustic guitar!
Over 180 Step-by-Step Lessons
Arranged in ten chapters, the lessons cover the basics from holding, stringing, and tuning the guitar to playing chords and melodies, culminating in an explanation of fingerpicking styles and reading standard music notation. Lessons include a variety of exercises and songs. In total, there are over 50 high-quality videos and over three hours of audio and video! On-screen teacher Kevin Garry, Ph.D., provides clear and friendly instruction.
eMedia Guitar Method features songs in a variety of genres to make learning fun and memorable – including Rock, Blues, Folk, Country, and Classical!
"Knockin′ on Heaven′s Door" – Acoustic version as by Bob Dylan, Rock version in the style of Guns N′ Roses
"Little Red Rooster" made famous by the Rolling Stones
"Rock N′ Me" by Steve Miller Band
"Downtown Train" made famous by Rod Stewart
"Uncle John′s Band" by the Grateful Dead
"Scarborough Fair" made famous by Simon & Garfunkel
"Ode to Joy" by Ludwig van Beethoven
"House of the Rising Sun" made famous by the Animals
"La Bamba" made famous by Ritchie Valens and Los Lobos
"Midnight Special" made famous by Creedence Clearwater Revival
Also included are popular songs, including "Scarborough Fair," "La Bamba," "Midnight Special," "Ode to Joy," "Minuet," "Greensleeves," "House of the Rising Sun" and more.
Over 50 Large-Format Videos
Professional guitar instructor Kevin Garry, Ph.D., guides you in over 50 videos with demonstrations of techniques – now larger, with enhanced quality! Many of the videos include split-screen displays with close-ups for a clearer perspective. You can even view them in full-screen mode if you want to.
Music Notation Display Options
Learn via guitar tablature or standard music notation through this easily accessible menu option.
Music Tracking
Highlighting of the music and lyrics as they′re heard makes it easy to follow along on guitar.
Variable-Speed MIDI
Slows down the audio to any tempo, while the Animated Fretboard shows song fingerings as the music plays. Learn at the pace best suited to you!
Animated Fretboard
Displays fingering positions for you as the music plays. It allows you to see exactly how to play the song on a simulated guitar fretboard as you listen to the music and the music tracking highlights the notes being played on the screen. Since you can highlight and loop any section of the music (or even double-click on a single note in the music), you can use the Animated Fretboard to make difficult sections or quick changes easier to manage and learn. The Animated Fretboard makes it simple to follow along with the lesson content. Includes option for both right- and left-handed views, and, just for fun, choose from six different fretboard skins modeled after classic guitars!
Automatic Tuner
Tune your guitar quickly and easily. A precision gauge allows you to play into your computer′s microphone and tune up interactively. Reference tuning notes are included.
Chord Dictionary
With fingering charts and recorded playback for over 250 chords. Find new chords for songs quickly.
Digital Metronome
Set your own speed and keep a steady beat.
Digital Recorder
Save your recordings and play back to share and compare.
30 Day Money Back Guarantee
Unconditional 30-Day Money Back Guarantee on all products purchased from PG Music Inc.
PG Music Inc. 29 Cadillac Ave Victoria BC V8Z 1T3 Canada
Sales: 1-800-268-6272, 250-475-2874, + 800-4746-8742*
*Outside USA and Canada where International Freephone service is available.

Online now
Need Help?
Message from PGMusic.com sales and support team
Hi, have any questions? We're available to text chat.
Message from PGMusic.com sales and support team
Hi, have any questions? We're available to text chat.