Video Demo

Video Introduction
In this video, Peter Gannon takes you on a tour of the Latin Pianist.
Audio Demo
Merengation
This is an exciting, medium tempo Merengue where the bass drum creates a downbeat '4' feel. There are breakdown sections (for example at bar 33) where instruments are added in layers. More syncopated percussion and bass lines as well as vamp-like brass lines are featured during the breakdown.
30 Day Money Back Guarantee
Unconditional 30-Day Money Back Guarantee on all products purchased from PG Music Inc.
Featured Product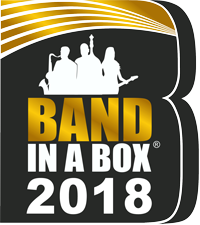 Band-in-a-Box 2018 for Windows! Buy and download now! >>
PG Music Inc. 29 Cadillac Ave Victoria BC V8Z 1T3 Canada
Sales: 1-800-268-6272, 250-475-2874, + 800-4746-8742*
*Outside USA and Canada where International Freephone service is available.