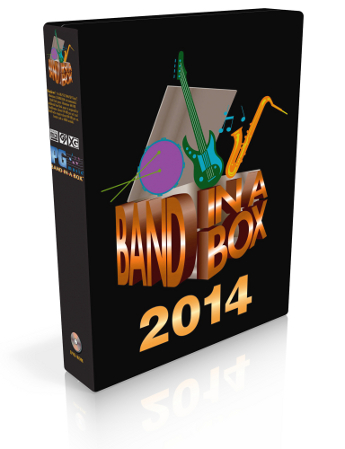 Band-in-a-Box 2014 for Mac is here!
Introducing Band-in-a-Box 2014 for Mac with over 50 great new features and enhancements, 101 more amazing RealTracks, 54 MIDI SuperTracks, 36 Artist Performances and that's not all.
The GUI has been redesigned with a great new look and many time-saving enhancements! The Toolbars, Song and Styles area have been changed, and the chord sheet now has a "Real" looking handwritten font for chords. We've added UserTracks. Now you can make your own RealTracks to add to your song. Plus there's a handy Instant Preview of styles, RealTracks, and RealDrums so that you can quickly audition them to choose the best ones for your song. Loops now support Acidized Loops. A Legato Strings feature that automatically optimizes MIDI string parts to prevent retriggering the same notes, a new Master Volume allows you to boost volumes of all songs with one setting and many more…
NEW! 101 more RealTracks with great new Jazz, Rock-Pop, and Country Styles. These include:
28 Jazz RealTracks: Introducing the "Jazz Pollwinners" series of Jazz Artist RealTracks. These new RealTracks are by the best-of-the-best jazz musicians. These artists have won Downbeat's Critics "best player" poll many times. Our Pollwinners RealTracks series includes Ron Carter ("bass"), Kenny Barron ("piano"), Lewis Nash ("drums"), Gary Smulyan ("baritone sax"), Phil Woods ("alto sax"), and Pat Martino ("guitar"). Styles for jazz swing, ballad, waltz and bossa included. And there are new RealTracks for Jazz Electric Piano, and EZ-Listening Jazz Acoustic Piano.
32 Country RealTracks: We've got great a new New Orleans RealTracks band (piano, drums, bass , guitar) headed by piano sensation Kevin McKendree. Nashville Guitar legend Brent Mason returns with two new Nylon String accompaniment RealTracks (tempo 85 and 120) and two new soloists: Crossover (tempo 75, swing 16ths), and Promise (tempo 100, Even 16ths). Nine Folk, Celtic and Country styles are added for Irish Bouzouki. New Country Waltzes, Shuffles, and Soloists by award winning artists: John Jarvis-piano CMA winner, Rob Ickes-resonator (13 time winner International Bluegrass Player of the Year), and Andy Leftwich-mandolin.
41 Rock-Pop RealTracks: Hot New Orleans Boogie styles added (piano, bass, drums, guitar). Horn Section Background 'Pad' style added. Funky Electric Piano and Clav from piano legend John Jarvis. 60's/70;s funk grooves - bass, piano and drums. New Dance Synth tracks. Baritone Sax Blues backgrounds and more!
30 Day Money Back Guarantee
Unconditional 30-Day Money Back Guarantee on all products purchased from PG Music Inc.
Contact Info
PG Music Inc.
29 Cadillac Ave Victoria BC Canada V8Z 1T3
Sales: 1-800-268-6272, 250-475-2874,
+ 800-4746-8742 *
Support: 1-866-983-2474, 250-475-2708,
+ 800-4746-8742 *
* Outside USA & Canada where International Freephone service is available. Access Codes
Q: How do I get the latest version of Band-in-a-Box?
A: We have packages for first-time or existing customers. Use the convenient chart to find the right package for you.
Q: If I purchase the UltraPlusPAK or EverythingPAK, do I really get a free USB Hard Drive for no additional charge?
A: Yes, Band-in-a-Box is pre-installed on a hard drive. You can use it directly from the hard disk, or copy it to your computer.