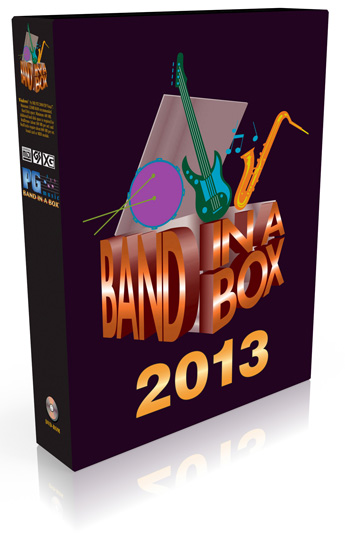 Band-in-a-Box 2013 for Mac is here!
Introducing Band-in-a-Box 2013 for Mac with over 50 great new features and enhancements, 101 additional RealTracks and 50 more MIDI SuperTracks!
There are a lot of exciting new features in Band-in-a-Box 2013 for Macintosh! The notation features have been completely rewritten and updated from version 2012 to include an enhanced Notation Windows, a Lead Sheet window, note-based lyrics, Jazz font notation and chords, guitar and bass tablature, and a Big Lyrics window - over 100 features and updates in all!
There are 50 new MIDI SuperTracks. MIDI SuperTracks are based on actual playing by studio musicians. Play the SuperTracks using your MIDI synth, or export as MIDI file to your favorite DAW (GarageBand etc.) for further editing or changing plug-in sounds to get a great sound using MIDI. Plus, there are new Performance Tracks - Artist's Performances on the Melody track, to showcase the Band-in-a-Box RealTracks demos playing along to an artist performing the melody. Not only are these great for listening, but you can also learn-from-the-pros with the displayed notation and tab... and much more.
NEW! 101 more RealTracks with great new Jazz, Rock-Pop, and Country Styles. These include:
31 Jazz RealTracks: Classic Jazz Piano (Boogie, Piano-4-to-Bar), Easy Listening Guitar Swing (Oliver Gannon), Smooth Jazz Acoustic Piano, Dixieland - Medium Soloists (Clarinet, Trombone, Trumpet, Ac.Guitar), Cuban Guajira & Guaracha (Bass, Percussion, Piano, Tres) and more.
35 Country RealTracks: Pedal Steel Soloing (CMA winner Paul Franklin), 5 new guitar accompaniment RealTracks recorded by Nashville guitar legend Brent Mason, Country Sax Soloing with Mark Douthit, 12 John Jarvis Piano tracks, Fiddle, Mandolin soloing. Resonator guitar soloing with Nashville great Rob Ickes (13-time winner International Bluegrass Player of the Year).
35 Rock-Pop RealTracks: Texas Blues slow 12/8 soloing and rhythm with guitar masters Sol Philcox and Brent Mason, Rock Piano (CMA winner John Jarvis), Medium Folk, Euro Dance, Celtic (Aire, Waltz, Irish Bouzouki), Pop Mandolin, and Texas Blues-Rock: Smokin" Blues Sax with Nashville Session master Mark Douthit.
30 Day Money Back Guarantee
Unconditional 30-Day Money Back Guarantee on all products purchased from PG Music Inc.
Contact Info
PG Music Inc.
29 Cadillac Ave Victoria BC Canada V8Z 1T3
Sales: 1-800-268-6272, 250-475-2874,
+ 800-4746-8742 *
Support: 1-866-983-2474, 250-475-2708,
+ 800-4746-8742 *
* Outside USA & Canada where International Freephone service is available. Access Codes
Q: How do I get the latest version of Band-in-a-Box?
A: We have packages for first-time or existing customers. Use the convenient chart to find the right package for you.
Q: If I purchase the UltraPlusPAK or EverythingPAK, do I really get a free USB Hard Drive for no additional charge?
A: Yes, Band-in-a-Box is pre-installed on a hard drive. You can use it directly from the hard disk, or copy it to your computer.