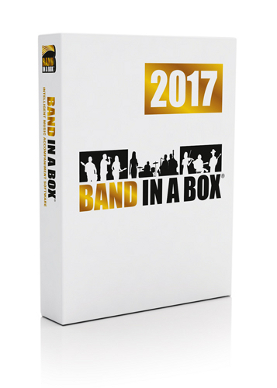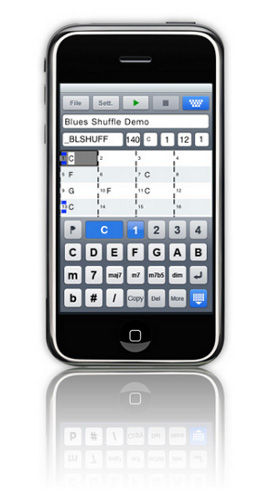 Band-in-a-Box
®
2017
for Mac

®
Band-in-a-Box® 2017 for Mac has over 80 exciting new features and enhancements! The main screen GUI has been redesigned with many requested improvements, including a new, smaller footprint, configurable toolbars, and more. RealTracks sound better than ever with improved stretching and transposition quality (Elastique 3), better phrase transitions, and Natural Arrangements. We have added new "Woodshedding" RealTracks called 12-Key Guitar RealTracks from Brent Mason played in 12 keys with Hi-Q (precise) Tab/Notation which is ideal for studying and learning. There are many RealDrums enhancements including Half/Double/Triple time, Multiple Drum/Percussion/Loops on one drum track, and more. There is a dedicated Song Titles Browser with metadata info on over 8,000 popular songs. UserTracks enhancements include Half/Double/Triple time, rests, 3/4 waltz support, and more. We've added a new VST Synthesizer (sforzando SFZ Synth) with support for the popular .SFZ sound format, as well as PG Music's Hi-Q sounds... ...and more!
NEW! 202 more RealTracks with great new Pop, Rock, Jazz, Blues, Funk, Country, and World styles. These include:
63 Country, Folk and World RealTracks: These are an amazing collection, with many "firsts," including Latin American styles (14 RealTracks) (from Mexico and Peru), Celtic Harp (4), and Hawaiian Pedal Steel (3) and Ukulele (2). Songwriter's Guitar and Cello toolkit (13), Modern Pedal Steel (4). Fifteen new Nylon and Acoustic Guitar Country RealTracks from the great Brent Mason (15). New Old Time and Celtic RealTracks (4) from Quinn Bachand. And introducing Shannon Forrest - we have Great Country Drums sets from Shannon Forrest (5) (Nashville's "hit-maker"). Shannon has played on more Top 10 hits than any drummer in Nashville for seven years running and won CMA Drummer of the Year!
61 Jazz, Funk and Blues RealTracks: Building on the "big hit" Crooner Swing Big Band released in 2016, we have new Crooner Bossa Big Band (9 piece horns) and Crooner Ballad Big Band (9 piece) from Jim Clark. All 9 horns (trumpets/saxes) play together, or you can mix/match the individual horns on their own. Sixteen Great Blues RealTracks styles added by Brent Mason (multi winner of CMA guitarist of the year) and Mike Rojas (piano – CMA pianist of the year). Gypsy Accordion styles (2) by multiple World Champion Cory Pesaturo. Smooth Soul RealTracks (12) from Brent Mason and Mike Rojas.
78 Rock and Pop RealTracks: Hard Rock – Power Trios - Guitar/Bass and Drums Shuffle and Even Rock with multiple feels (25 RealTracks). Modern House, HipHop and Rap RealTracks (24). Zane Carney is back with Modern Pop RealTracks (6 - Waltzes and 8th notes). Zane is perhaps best known as John Mayer's guitarist, but also well-established in his own right. Shannon Forrest (CMA Drummer of the Year) with the most common Drum Pop/Rock grooves of RealTracks (11). Retro 60's grooves for Surf, Motown and Classic Rock (6). Percussion single instruments (Tambourine, Congas, etc.) to add to other drum parts (6)... and more!
30 Day Money Back Guarantee
Unconditional 30-Day Money Back Guarantee on all products purchased from PG Music Inc.
Contact Info
PG Music Inc.
29 Cadillac Ave Victoria BC Canada V8Z 1T3
Sales: 800-268-6272, 250-475-2874,
+ 800-4746-8742*
Tech Support: 866-983-2474, 250-475-2708, + 800-4746-8742*
* Outside USA & Canada where International Freephone service is available. Access Codes
Featured Demos
"Cool" Smooth Jazz
Swing 16th Smooth Jazz featuring the Rhythm Electric Guitar and Electric Piano soloist from RealTracks Set 93 Listen >>
Samba nylon guitar solo
Backed up by Piano & Acoustic Bass RealTracks (Set 94), and Samba RealDrums (Set 5). The chordal movement in this demo is fairly quick! Listen >>
Q: How do I get the latest version of Band-in-a-Box?
A: We have packages for first-time or existing customers. Use the convenient chart to find the right package for you.
Q: If I purchase the UltraPlusPAK or EverythingPAK, do I really get a free USB Hard Drive for no additional charge?
A: Yes, Band-in-a-Box is pre-installed on a hard drive. You can use it directly from the hard disk, or copy it to your computer.