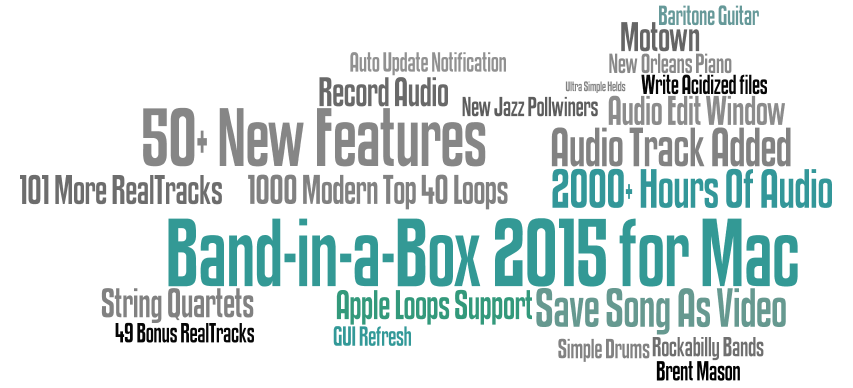 Band-in-a-Box® 2015 New Features
Band-in-a-Box® 2015 for Mac is here with over 50 new features!
We have been busy and have added some great new features, new RealTracks, MIDI SuperTracks, Loops, Artist Performances and Instrumental Studies to Band-in-a-Box! Compared to version 2014 (June 2014), this adds 50 new features, 101 new RealTracks, 15 new MIDI SuperTracks, 46 Artist Performances, 18 new Instrumental Studies and 1,000 new Killer Modern Loops. Compared to version 2013 (March 2013), this adds 100 new features, 202 new RealTracks, and 69 new MIDI SuperTracks! There are now over 2,200 hours of RealTracks/RealDrums (studio musician audio recordings) included with the UltraPlusPAK or EverythingPAK! And there's more! We have Bonus PAKs available (but only during the special) with up to 49 additional new RealTracks on top of the 101 released with version 2015. That's 150 new RealTracks in total!
Band-in-a-Box® 2015 Features and Additions
There are some exciting new features in Band-in-a-Box® 2015. We've enhanced the GUI for an improved look and feel, and many new time-saving features added such as automatic track labels (e.g. instead of saying "strings" it says "banjo"), video tutorial-help buttons, instant previews for many dialogs, and more. There's a new Video Window to load, play videos to Band-in-a-Box. You can save your song as a video and upload it to YouTube. Audio Track is added to allow you open an audio file, record audio, or render the song to the Audio Track. The new Audio Edit Window shows a digital waveform of the Audio track. There is now a Big Piano Window which displays notes on a resizable keyboard. Audio Chord Wizard is enhanced with a utilities dialog and an option to enable/disable the current style. You can now write Acidized information to the audio file. Read/Write support for Apple loops. Loops dialog is enhanced, with support for Apple loops, instant preview by double-clicking, additional formats supported, and more. Arrangements have been improved with an addition of options for Simple Drums, Ultra Simple "Held chords only" option for RealTracks and several improved algorithms leading to better sounding RealTracks. Automatic program updates are added, including detecting and downloading free program and RealTracks updates. New playback options allow for setting any relative tempo (extreme slowdowns - 1/100 of original and speedups - 8X original) with great quality! Audio transpose of any track, with amazing quality even with extreme slow downs or transposes. You can email a song as attachment. There is an amazing collection of new content of RealTracks, MIDI SuperTracks, Artist Performances, Instrumental Studies, Loops and more!
With Band-in-a-Box® 2015, we have added a huge number of RealTracks (101), 15 MIDI SuperTracks, 46 Artist Performances (Quinn Bachand Celtic/Folk/Gypsy Guitar, Jack Stafford Jazz Sax), 18 Instrumental Studies for Guitar (Country, Pop, Jazz), over 1,000 Killer Modern Loops and more.
This includes...
101 RealTracks (101), with great new Jazz, Pop, and Country Styles. These include:

33 Jazz RealTracks: New RealTracks in our "Jazz Pollwinners" series of Jazz Artist RealTracks. These are new RealTracks by the best-of-the-best jazz musicians. These artists have won Downbeat's Critics "best player" poll many times. Our Pollwinners RealTracks series includes new RealTracks from the great Eric Alexander (tenor sax), Ron Carter (bass), Kenny Barron (piano), Lewis Nash (drums), Gary Smulyan (baritone sax), Mike Moreno (guitar) and Phil Woods (alto sax). Brand new Pollwinners styles for Jazz Swing, Ballad, Waltz and Bossa comping and soloing included. There are also great new flute and soprano sax background and soloing tracks. And new RealTracks for Jazz Funk (guitar and synth), Gypsy Jazz (Quinn Bachand), and a great Jazz/Rockabilly "Jive" band with guitar (Brent Mason), Piano (Kevin McKendree), bass and drums.
32 Country RealTracks: We've got several new full Country bands of RealTracks - guitar, piano, bass and drums for Rockabilly Boom-Chicka, Rockabilly Slow Swing, New Orleans Mardis Gras and New Orleans Shuffle. And this hot quartet includes Brent Mason (guitar) and Kevin McKendree (piano). Quinn Bachand has made some great Hip Folk, Old Time, Celtic banjo and guitar RealTracks. Nashville guitar legend Brent Mason returns with some more great Country RealTracks including Baritone Guitar, Rockabilly, Nylon, Dreamy and more!
36 Pop/Rock RealTracks: Great new Pop/Rock RealTracks by Brent Mason (guitar), Gary Smulyan (sax), John Jarvis (piano), Kevin McKendree (piano) and more! Hot! We also have new full bands with Rockabilly Fifties, Motown Up-tempo, Pop String Chamber Quartet, World Synths (koto, shakuhachi, electro flutes), Vintage Keys, Blues Baritone Sax, Funky Horns and much more!
There are 15 new MIDI SuperTracks.
These new MIDI SuperTracks styles are Funky Pianos, Funky Synths, Rockabilly, New Orleans Pianos and many more! They work like RealTracks, but you can use your own MIDI sounds to customize the sounds or even edit the notes.
There are two new Artist Performance Sets.
There are two new Artist Performance Sets. 24 Amazing Celtic Guitar and Banjo rhythms and melodies, and some flat-picking melodies on guitar playing traditional Celtic tunes. Includes audio and on-screen guitar display, hi-quality notation, tab and printout. 22 Jazz Artist Performances on Tenor Sax, Alto Sax, Clarinet and Flute. Read along, and transpose to your instrument's key.
We've added a huge collection of 1,000 Killer Modern Loops, ready to use with Band-in-a-Box.
These loops are mainly bass and drums, focusing on top 40, modern, techno and dubstep drums and bass grooves. And with Band-in-a-Box®, you don't just add these as a loop; they will also work like a style, follow your chord progression, and play along with the rest of the instruments in the band! All you need to do is choose the loop and type in your chords!
Introducing "Instrumental Studies" for Guitar.
These are 18 great guitar performances that can help you learn to play background or solo guitar in many different styles. They focus on common chord progressions, great playing, and great notation, tab, on-screen guitar and printout. Load and play, slow them down, loop, play and learn as you imitate the guitar part that you see on the on-screen guitar.
… and more!
Purchase the Band-in-a-Box® 2015 UltraPlusPAK or EverythingPAK, and you'll get all of the RealTracks and MIDI SuperTracks Sets released to date!
If upgrading from 2014, you'll get 101 new RealTracks with the Band-in-a-Box® UltraPlusPAK or EverythingPAK!
If upgrading from 2013, you'll get 303 new RealTracks with the Band-in-a-Box® UltraPlusPAK or EverythingPAK!
If upgrading from 2012, you'll get 505 new RealTracks with the Band-in-a-Box® UltraPlusPAK or EverythingPAK!
Yes, I want over 1,800 RealTracks! UltraPlusPAK | EverythingPAK
Listen to demos of the amazing RealTracks here!

30 Day Money Back Guarantee
Unconditional 30-Day Money Back Guarantee on all products purchased from PG Music Inc.
Contact Info
PG Music Inc.
29 Cadillac Ave Victoria BC Canada V8Z 1T3
Sales: 1-800-268-6272, 250-475-2874,
+ 800-4746-8742 *
Support: 1-866-983-2474, 250-475-2708,
+ 800-4746-8742 *
* Outside USA & Canada where International Freephone service is available. Access Codes
Q: How do I get the latest version of Band-in-a-Box?
A: We have packages for first-time or existing customers. Use the convenient chart to find the right package for you.
Q: If I purchase the UltraPlusPAK or EverythingPAK, do I really get a free USB Hard Drive for no additional charge?
A: Yes, Band-in-a-Box is pre-installed on a hard drive. You can use it directly from the hard disk, or copy it to your computer.