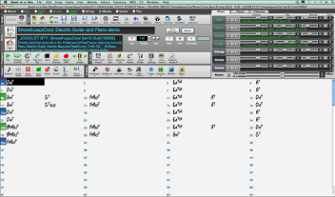 What is Band-in-a-Box®?
Band-in-a-Box® is an intelligent automatic accompaniment program for your multimedia computer. You can hear and play along to many song ideas and go from "nothing" to "something" in a very short period of time with Band-in-a-Box® as your "on demand" backup band.
Band-in-a-Box is so easy to use!
Just type in the chords for any song using standard chord symbols (like C, Fm7, or C13b9), choose the style you'd like, and Band-in-a-Box® does the rest, automatically generating a complete professional-quality arrangement of piano, bass, drums, guitar, and strings or horns in a wide variety of popular styles plus optional live audio tracks with RealDrums and RealTracks.
RealTracks are audio instruments that replace the MIDI track with actual recordings of top studio Jazz/Rock/Country musicians! These are not "samples" of single instrument hits; they are full recordings, lasting from 1 to 8 bars at a time, playing along in perfect sync with the other Band-in-a-Box tracks. We have a huge library of RealTracks available, including lots of Jazz, Rock, Blues, Country, Folk, Celtic, Latin and Bluegrass styles./p>
Best of all, you use these instruments like regular styles. Many of them offer a "simpler" option that plays a less busy or embellished arrangement, and we include "Direct Input" (clean signal) guitar RealTracks so you can generate files with a clean guitar, and then, using your DAW (e.g. GarageBand), you can add custom amp and F/X settings using the AmpliTube CS guitar amp and effects simulator that is included.
The RealTracks sound more natural over a wide range of tempos with the élastique Pro V2 time stretching engine by zplane.development. This is built-in, so there's nothing you need to do. Your songs will just "sound better" over a much wider range of keys and tempos.
By simply choosing a RealStyle, you will hear your new or existing songs played by real instruments, with a dramatic improvement in sound and musicality. You can even have your old MIDI styles automatically replaced with the equivalent RealStyle (if installed). And of course the number of RealTracks and RealStyles keeps growing.
Many of the RealTracks have RealCharts; this allows you to see notation and correct guitar tab/fretboard display, a great help for learning from the top pros performing on the RealTracks.
RealDrums replace the MIDI Drum track with actual recordings of top studio Jazz/Rock/Country drummers! Again, these are not "samples" of single drum hits; they are full recordings, lasting from 1 to 8 bars at a time, playing along in perfect sync with the other Band-in-a-Box tracks. Hundreds of RealDrums styles are available, and EZ selection of "DrumGrooves" lets you choose different grooves within drum styles.
For added versatility, you can add your own or 3rd party loops to any Band-in-a-Box track, or add your favorite MIDITrack from any MIDI style to any track of your current song. The Mixer window allows you to quickly set volumes, panning, reverb, tone and patches. The Mixer floats on top of the current window, so you can place it wherever it's convenient to make quick and easy adjustments to your Band-in-a-Box track settings. It features a unique "Combo" slider for making changes to all tracks at once.
The amazing "Chords from MP4" feature (Audio Chord Wizard) automatically figures out the chords from any AIFF, MP4, M4A, or other audio file, and displays them in Band-in-a-Box. Just load in any audio file and you'll instantly see the chords in Band-in-a-Box. The Audio Wizard also figures out tempo, bar lines, key and fine-tuning from the audio file.
Plus, you can Save, Print, and Render your songs! Print out your complete song arrangement as sheet music. With the Direct Render to Disk feature, you can save your files directly as audio files (AIFF, M4A, WAV), for use in other programs (GarageBand, Cubase, etc.), or in Internet formats.
And much more …
Learn about the features released with previous versions here.
30 Day Money Back Guarantee
Unconditional 30-Day Money Back Guarantee on all products purchased from PG Music Inc.
Contact Info
PG Music Inc.
29 Cadillac Ave Victoria BC Canada V8Z 1T3
Sales: 800-268-6272, 250-475-2874,
+ 800-4746-8742*
Tech Support: 866-983-2474, 250-475-2708, + 800-4746-8742*
* Outside USA & Canada where International Freephone service is available. Access Codes
Q: How do I get the latest version of Band-in-a-Box?
A: We have packages for first-time or existing customers. Use the convenient chart to find the right package for you.
Q: If I purchase the UltraPlusPAK or EverythingPAK, do I really get a free USB Hard Drive for no additional charge?
A: Yes, Band-in-a-Box is pre-installed on a hard drive. You can use it directly from the hard disk, or copy it to your computer.