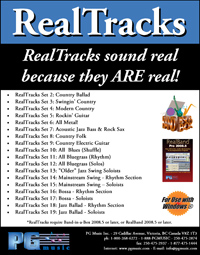 RealTracks Sets 1 - 227
The RealTracks have become one of the most popular additions in Band-in-a-Box and RealBand.
PG Music offers 227 RealTracks Sets, with over 1000 RealTracks for Jazz, Country, Rock, Pop, Metal, Blues, Bluegrass and more!
We've made it easy to get RealTracks Sets - ALL of the RealTracks Sets are included in the UltraPlusPAK, EverythingPAK and Audiophile editions of Band-in-a-Box.
Note: RealTracks Sets 102-169 require Band-in-a-Box 2011 except for RealTracks Set 130: Mike LeDonne - More Swingin'Piano & Organ which requires Band-in-a-Box 2011.5. Band-in-a-Box Version 2012.5 or higher is required for RealTracks Sets 176 & 182-227.