Band-in-a-Box 2020 New Feature - MultiRiffs
MultiRiffs is a popular feature that has been available in Band-in-a-Box DAW Plugin.  Now it is also available in Band-in-a-Box.  It allows you to quickly generate 7 variations of either a portion of the track (which would generate 7 variations of "Riffs" of a four-bar guitar solo), or the whole song with 7 variations that are generated to play different material at all times.  Once the tracks are generated, the 7 files are saved as WAV files and accessed from the Drop Station (noted by the green highlight of the WAV box).
To use the feature, click on a track radio button at the top of the screen, either one with the instrument you want to use for the MultiRiffs or a blank track.  Then right-click (or double-click) on it to launch the menu and then go to Select RealTracks | Generate MultiRiffs (for whole/part of song).

You will then see a dialog with a list of available RealTracks.  Select a RealTrack and press OK.  If there is one already on the track, it will be the default option in the dialog and you can just press OK.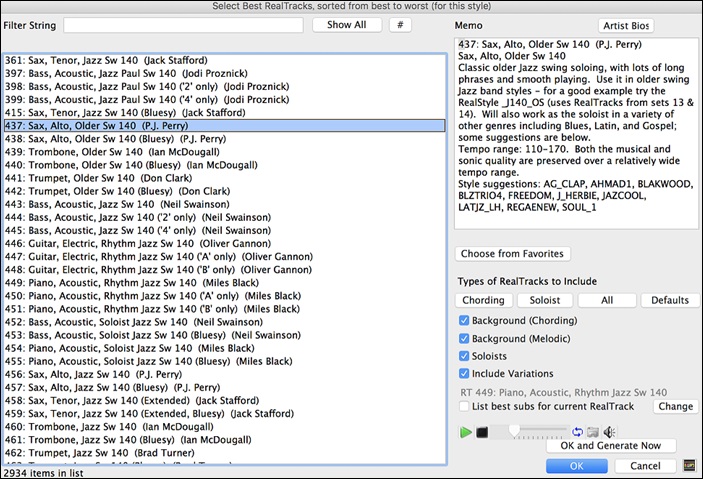 Then choose the range of the song or the whole song, and press OK.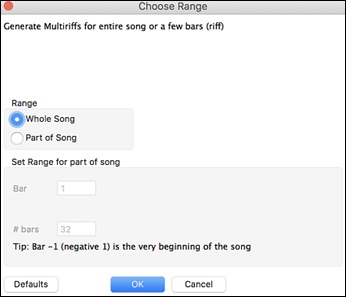 Tip: If you highlight the region in the Chord Sheet before launching this feature, that region will be automatically set.
The MultiRiffs will then be generated.  

They show up as 7 different tracks, numbered from 1 to 7.

They are rendered as WAV files and are ready to be dragged from the green WAV area to the Finder or dropped into your DAW program.  

Or you can just find them in your Band-in-a-Box/DragDrop folder.

You can audition them individually by enabling the [S] button on the Mixer.  Playing them all at once will result in a "cacophony" of 7 instruments at once, which might be OK for strumming guitars, but not so good for 7 solo saxophones playing different phrases.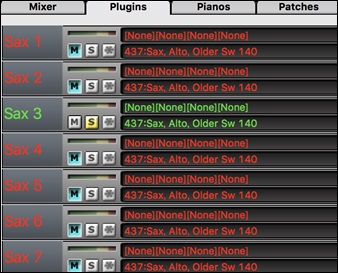 If you've generated a region of the song, pressing the F10 key will play the song looped with the current highlighted region so that you can just hear the riffs.

Money Back Guarantee
Unconditional 30-Day Money Back Guarantee on all products purchased from PG Music Inc.
Contact Info
PG Music Inc.
29 Cadillac Ave Victoria BC Canada V8Z 1T3
Sales: 800-268-6272, 250-475-2874,+ 800-4746-8742*
* Outside USA & Canada where International Freephone service is available. Access Codes
Tech Support: Live Chat, support@pgmusic.com
Q: How do I get the latest version of Band-in-a-Box?
A: We have packages for first-time or existing customers. Use the convenient chart to find the right package for you.
Q: Can I really have the entire UltraPAK shipped pre-installed on USB 3 hard drive?
A: Yes, in addition to e-delivery/download, you can choose during checkout to get a physical backup copy hard drive for only $25 US (free shipping). You can use Band-in-a-Box directly from the hard disk, or copy it to your computer.

Online now
Need Help?
Message from PGMusic.com sales and support team
Hi, have any questions? We're available to text chat.
Message from PGMusic.com sales and support team
Hi, have any questions? We're available to text chat.