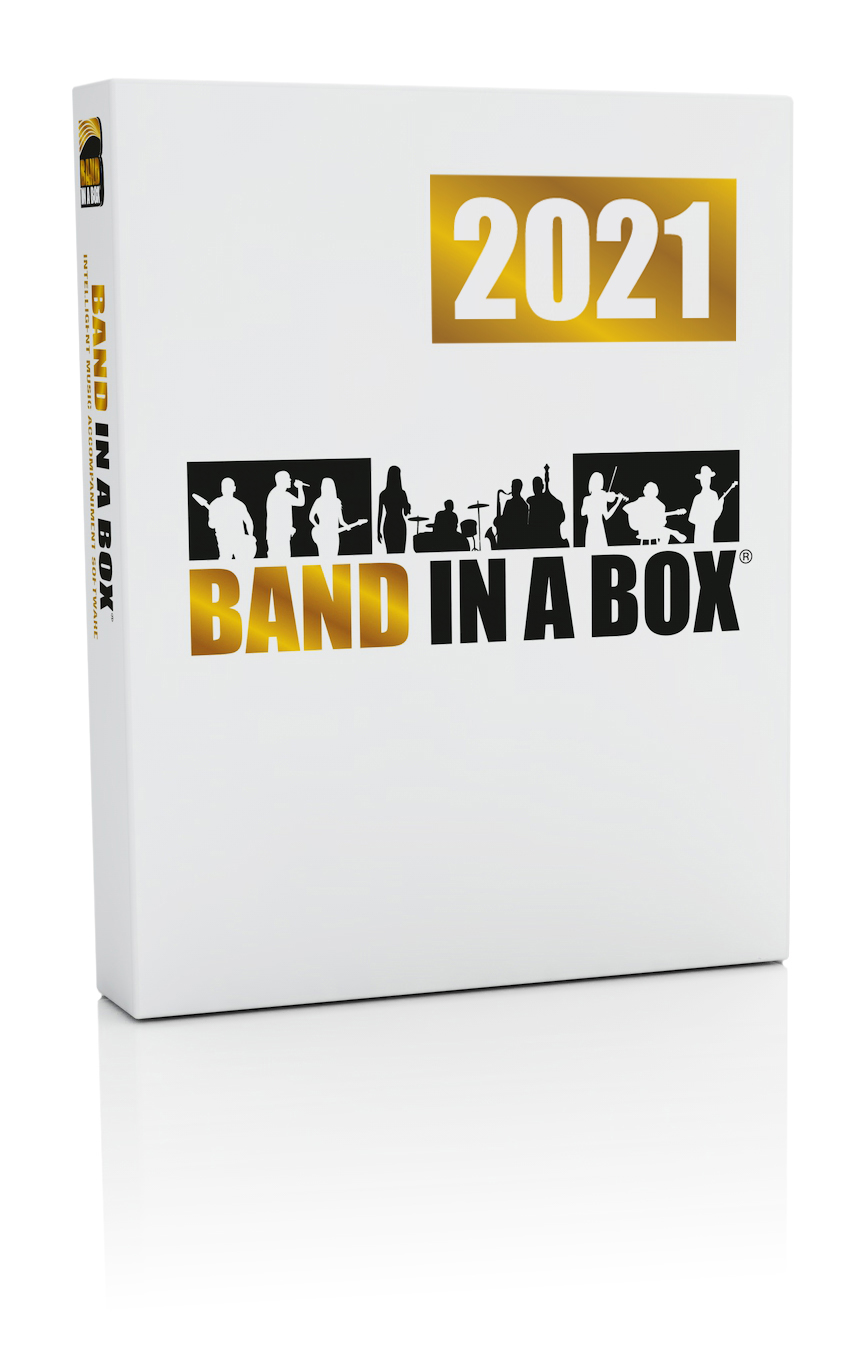 Band-in-a-Box® 2021 for Mac is Here!
Band-in-a-Box 2021 for Mac is compatible with the Intel and Silicon M1 chip and works on all Mac OS from Snow Leopard (OS 10.6.8) to Big Sur (OS 11) inclusive. (Note: Band-in-a-Box Plugin requires OS 10.7 or higher.)
There are over 80 new features in Band-in-a-Box® 2021! We've added 16 new editable Utility tracks, which can be used for audio and/or MIDI. 24-bit audio playback, recording, mixing, and rendering is now supported. Auto-Fix "sour" notes - out-of-tune notes in RealTracks will be auto corrected to match chord tones. 4X's faster audio DSP processing (using SIMD), allowing smoother playback & faster rendering for a larger number of tracks. The Mixer has been improved with many customizable display options including the embedded window, track selection to display, automatic show/hide during playback, and more. The Mute and Solo states are now saved/loaded with songs. You can now view audio on any track, not just the Audio track, and copy regions of audio to Utility tracks. Plugin control has been improved, with a direct access from the Mixer, the ability to send each MIDI track to output to another track, multiple plugins GUI windows display, WAVES plugins support, and more. Audio harmonies can be generated onto individual tracks, so you can use control volume, panning, reverb, effects for each voice. Hi-Q tempo stretching setting for élastique is used for playback and rendering. The Chord Sheet has been improved with new zoom buttons and time signature display on the part marker. Chords can be copied as a simple text format and then be pasted into another song or a text. We've added 7,000 more song titles to the Song Titles Browser. Now, all RealDrums have RealCharts (with accurate Drum Notation and MIDI to trigger drum sounds). Added support for third party programs that split audio into separate tracks (stems). There are new notation features, including cut time (e.g. Bluegrass 8th notes) display. GUI enhancements. And more!

The Band-in-a-Box® 2021 DAW Plugin offers great new features including enhanced audio rendering, support for displaying two chord types, the ability to change audio output channels, and we've added table view buttons. Now you can Import MIDI markers and tempo map, export chord markers as a MIDI file, generate all ungenerated tracks, and much more!
Read the Band-in-a-Box® 2021 Upgrade Manual: Online Manual | PDF Download
Read the Band-in-a-Box® 2021 Users Guide: Online Manual | PDF Download
Band-in-a-Box 2021 Videos
Band-in-a-Box® 2021 Video: Everything you need to know in
less than 6 minutes!
Band-in-a-Box® 2021 Video:
New Features, RealTracks, and more!
Band-in-a-Box® 2021 Video: 2021 49-PAK
Band-in-a-Box® 2021 Video:
202 New RealTracks
Band-in-a-Box® 2021 Video: 59 of your Problems Solved!
202 new RealTracks for Band-in-a-Box® with great new Pop, Rock, Jazz, Blues, Funk, Country and World styles.
51 Jazz, Blues, Funk & Latin RealTracks (Sets 353-359)
The Jazz, Blues, Funk & Latin collection this year features a vast assortment of new RealTracks. We've added New Fusion Soloing and Lowdown Blues with Nashville legend Brent Mason (9) that features cool new guitar effects that have never previously been in Band-in-a-Box®, such as a "rotary" effect that gives the guitar a sound similar to a vintage organ. We've also expanded our jazz "essentials" RealTracks with a set focusing on RealTracks that work very well over Jazz Minor Blues progressions (8). There are rhythm-section instruments as well as 5 soloists. Like other RealTracks, they can play over ANY chord progression in ANY key, but are designed to work particularly well over jazz minor blues progressions. There are Slack Key guitar styles from Brent Mason (6), which feature a distinctly Hawaiian sound. There are new World Music styles such are "Partido Alto" (4) which is closely related to the Samba, African Nanigo (4), Cuban Cascara (2), Beguine (3) as well as new basses to go along with our previously released "Rumba Flamenca" styles (2). There are New Age piano styles with Miles Black (5), which work well on their own, or in the context of an electronic trio. Finally, there are new styles from Fusion legend Jeff Lorber, which include new funky synth basses (3), vintage electronic drums (3) and two new Modern Jazz piano styles (2).
80 Pop, Rock and World RealTracks (Sets 360-367)
We have some amazing new pop, rock, and world styles with Band-in-a-Box® 2021. We've added to our collection of user-requested "Classic" rock guitar styles, with a set of "Dublin Pop" (9), which emulates the guitar sounds that came out of Ireland in the 80s & 90s, as well as a trip to Seattle with "90s Grunge" (12) which features multiple guitar styles over four basic grunge grooves, and includes both rhythm styles as well as soloists. There are user-requested Reggae styles (7) which include a new slow 16ths groove very different from our existing Reggae styles, and also includes Steel Drum and Marimba Reggae RealTracks! There are also classic Dancehall RealTracks (3) that are distinct from our existing modern electronic Dancehall styles. There are also new Steel Drum and Marimba RealTracks (2) to go along with last year's "Soca" styles. There's a huge assortment of new acoustic guitar styles from Quinn Bachand, including 90s & 2000s acoustic rock (13), Indie Folk-Rock (12), and 60s Coffeehouse (4). Also included with the "Coffeehouse" set is a RealTracks first, Dulcimer (6)! This is an instrument that has its roots in Appalachian music, but became very popular due to its use by famous folk legends. There are new "Gospel Shout" (3) RealTracks, perfect for a rousing church service! And finally, our extremely popular collection of "cinematic" electric guitar styles has now gotten bigger with new RealTracks (9) from Nashville stalwart Darin Favorite.
71 Country, Americana & Celtic RealTracks (Sets 368-375)
The Country, Americana, and Celtic collection this year has added a beautiful variety of RealTracks. We've added to our collection of vocal RealTracks with a set of "Swingin' Shuffle" vocals (5). This features a 6-voice choir singing over a swing 8ths groove, with an additional option for an improvised vocal part wailing over the whole thing! We've added to our collection of "Country Pollwinner" RealTracks, featuring musicians who have been awarded some of the most prestigious awards in the industry, such as the Academy of Country Music (ACM) Awards in both a "Nashville Radio" category as well as an "Americana" category. This includes RealTracks from guitarists Danny Rader (2) winner of the CMA guitarist of the year award, drummers Miles McPherson (6) and Fred Eltrington (7) who have won CMA drummers of the year, as well as renown bassists Steve Mackey (2) and Jimmy Carter (4) who are some of the busiest first-call bassists in Nashville! And of course, this also includes RealTracks favorite Brent Mason, who has won the CMA guitarist of the year award numerous times! Brent has new guitars in the Americana category (3), as well as a set of "Pop Soul" guitars (7) both rhythm styles and soloists. There is a new set of Old-Time Music, with "Bonfire" RealTracks (5) and "Sad Ballad" (5), featuring mandolins, fiddles, guitars, and "banjo guitars" or "ganjos." There are even MORE Americana styles with a RealTracks first, Baritone ACOUSTIC guitar with Quinn Bachand (10). Quinn also features on more Celtic Guitar (3), Jaw Harp (5), and Bodhran (2). Finally, there are exciting new Lap Steel styles with Nashville great Eddy Dunlap (5).
30 Day Money Back Guarantee
Unconditional 30-Day Money Back Guarantee on all products purchased from PG Music Inc.
Contact Info
PG Music Inc.
29 Cadillac Ave Victoria BC Canada V8Z 1T3
Sales: 800-268-6272, 250-475-2874,+ 800-4746-8742*
* Outside USA & Canada where International Freephone service is available. Access Codes
Tech Support: Live Chat, support@pgmusic.com
Q: How do I get the latest version of Band-in-a-Box?
A: We have packages for first-time or existing customers. Use the convenient chart to find the right package for you.
Q: Can I really have the entire UltraPAK shipped pre-installed on USB 3 hard drive?
A: Yes, in addition to e-delivery/download, you can choose during checkout to get a physical backup copy hard drive for only $25 US (free shipping). You can use Band-in-a-Box directly from the hard disk, or copy it to your computer.

Online now
Need Help?
Message from PGMusic.com sales and support team
Hi, have any questions? We're available to text chat.
Message from PGMusic.com sales and support team
Hi, have any questions? We're available to text chat.