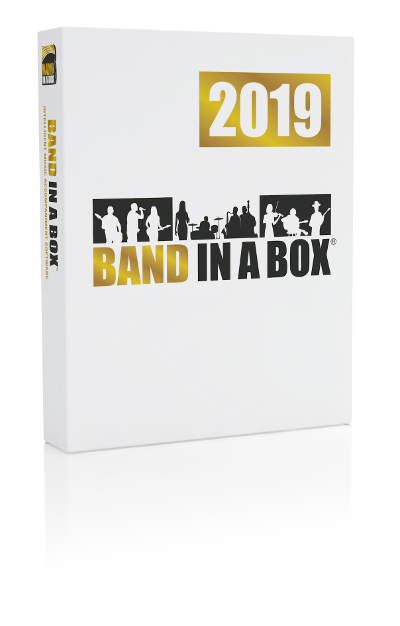 Band-in-a-Box® 2019 for Mac is Here!
There are over 64 exciting new features in Band-in-a-Box® 2019! First off is our brand-new 64-bit version of Band-in-a-Box®, which works well with the latest plugins and 64-bit OS features! We've also made and include a 64-bit VST/AU/AAX Plugin of Band-in-a-Box®, which you can use inside your favorite DAW (GarageBand, Logic, Reaper, Pro Tools, Digital Performer, Ableton, PreSonus, etc.) to generate styles, RealTracks, RealDrums, Multi-Riffs, etc. There's a completely redesigned SongPicker, which shows information for up to 50,000 songs and has useful filter and search features including search by chord progression and/or melodic phrase. We've added advanced filters to help you with searches for RealTracks, RealDrums, and MIDI SuperTracks. These include search by feel, time signature, tempo, RealCharts, and more. You can now control the loudness of each RealTrack in the medley. Notation enhancements include drum notation, drums RealCharts (transcriptions of some of the RealDrums), quick entry of forced accidentals, and more. We've added 300 more song titles to the Song Titles Browser. The Melodist now uses RealStyles to generate chords and melodies. Audio Harmonies are enhanced with BB-Harmony engine providing sophisticated harmonies with passing tones to your audio track. And much more.
We've added 202 new RealTracks (double the 101 that we've often released in the past), new RealStyles, MIDI SuperTracks, Instrumental Studies, "Low Man" and Re-amped "12-Key" Metal/Thrash Electric Guitar RealTracks, RealDrums transcriptions, Xtra Styles PAKs 6 & 7, and more! There is a 49-PAK with 40 additional new RealTracks on top of the 202 above, so in total an amazing 242 new RealTracks are available!
202 new RealTracks (Sets 301 to 328) with great new Pop, Rock, Jazz, Blues, Funk, Country and World styles! These include:
60 Jazz, Blues, Funk & Latin RealTracks
The Jazz, Blues, Funk & Latin collection this year contains an amazing assortment of legendary musicians. We've added more Drums and Percussion from the amazing Alex Acuña, well known as the drummer for Weather Report and many other seminal fusion groups. With this collection, along with the master guitarist Ramon Stagnaro, there are Brazilian Bossa & Samba styles (10) as well as many more Latin American styles (11) with RealTracks "firsts" such as the "Bajo Sexto," a Mexican stringed instrument. This set also features the requested "RumbaFlamenca" styles. We also have new Modern Funk RealTracks (10) from some of New York's most exciting musicians. Guitarists Bob Lanzetti, Mark Lettieri, drummer Sput Searight, and percussionist Keita Ogawa are all part of some of the most exciting funk and world music projects coming out of New York and are now RealTracks artists. There are new "Fiery" Harmonica Soloists (5) from LD Miller, who won first runner up on the first season of "America's Got Talent" with his amazing harmonica performances. We also have amazing new Blues Rhythm and Soloist Guitars (4) from the amazing Sol Philcox, as well as new Funky Acoustic Guitar (3) styles from Colin Linden and Joe Robinson. There are also new Djembe & other percussion styles (7), from Keita Ogawa, Tango styles (4), and Modern Jazz Waltz Drums (2). To top it off, we've added to our collection of Horn Section styles with some great, growly Blues Horns (4)!
70 Pop, Rock & World RealTracks
We have some amazing new pop, rock, and world styles with Band-in-a-Box® 2019. The perennial favorite Brent Mason has recorded some beautiful new pop soloists on both Electric and Acoustic Guitar (8). We also have wonderfully spacey "Cinematic" Electric Guitar (4) from Darin Favorite, as well as beautiful new 12-string and 6-string "Campfire" Acoustic Folk styles (16), and Rock & Grunge Acoustic Guitar (4) from Quinn Bachand. In addition to this, we have Pop-Rock Pedal Steel (4) with a modern edge from the Nashville great Eddy Dunlap, "Southern Pop" Drums (4) from Land Richards, and a set of laid-back singer-songwriter guitar and piano (6). To round off the "world music" side of things, we've added new Klezmer (12) accordion, guitar, bass, and drum styles as well as "A Taste of Europe" set of accordion and guitar (4). These feature world champion accordionist Cory Pesaturo. We also have a set with upright bass playing basic pop styles, as well as pop accordion (8), which are all very useful in a wide variety of styles.
72 Country, Americana & Celtic RealTracks
With Band-in-a-Box® 2019, we're introducing an amazing new RealTracks guitar artist, Johnny Hiland! Johnny is a Nashville legend known for his blistering fast "Chicken Pickin'" soloing style, and we have three soloist styles that we're proud to present in our "Chicken Pickin'" (3) with Johnny Hiland! We've also expanded our collection of "Americana" RealTracks, with new keyboards (4) from a CMA winner Mike Rojas, resonator guitars (6) from Eddy Dunlap, nylon and electric guitars (6) from Brent Mason, acoustic bass (1) from Byron House, drums and percussion (6) from Bryan Owings, fiddles (2), mandolins (6), and another RealTracks first: 5-string fiddle (5) and mandola (5) from Andy Leftwich! We've added to our collection of Celtic styles with another RealTracks first: amazing Celtic cellos (9) by Natalie Haas, which includes options both for the common "Celtic Chopping" technique, as well as styles that utilize long, flowing lines. Also, on the Celtic front, we have new 12-string and nylon guitar styles (6) from Quinn Bachand, which utilize another RealTracks first: "DADGAD-Guitar tuning". There's also a set of Celtic soloists (8), so you can have an improvised solo over your chord progression in the styles of a Celtic jig, reel, or hornpipe. And for the icing on the cake, we've added a new background vocal RealTracks style with Gospel "Mmms" Vocals (5), which includes options that utilize four doubled voices, or combinations of the individual voices!
30 Day Money Back Guarantee
Unconditional 30-Day Money Back Guarantee on all products purchased from PG Music Inc.
Contact Info
PG Music Inc.
29 Cadillac Ave Victoria BC Canada V8Z 1T3
Sales: 800-268-6272, 250-475-2874,
+ 800-4746-8742*
Tech Support: 866-983-2474, 250-475-2708, + 800-4746-8742*
* Outside USA & Canada where International Freephone service is available. Access Codes
Q: How do I get the latest version of Band-in-a-Box?
A: We have packages for first-time or existing customers. Use the convenient chart to find the right package for you.
Q: If I purchase the UltraPAK or UltraPAK+, do I really get a free USB Hard Drive for no additional charge?
A: Yes, Band-in-a-Box is pre-installed on a USB 3.0 hard drive. You can use it directly from the hard disk, or copy it to your computer.

Online now
Need Help?
Message from PGMusic.com sales and support team
Hi, have any questions? We're available to text chat.
Message from PGMusic.com sales and support team
Hi, have any questions? We're available to text chat.