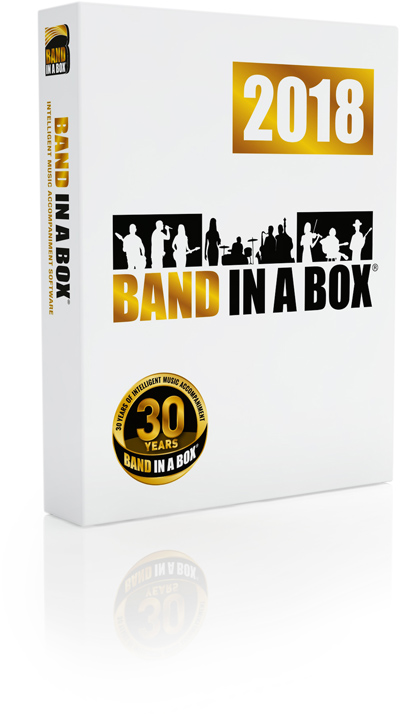 Band-in-a-Box® 2018 for Mac
There are over 50 exciting new features in Band-in-a-Box® 2018! We are introducing "Video RealTracks," which work like RealTracks but also include videos of the musician's performance. The Audio Chord Wizard has been redesigned and is now built into Band-in-a-Box®. The Audio Harmonies feature has been added with Audio Transcription, which converts a monophonic audio track to MIDI (notation), Fix Tuning to fix an out-of-tune audio recording, and more. The new Piano Roll window enables precise graphic editing of MIDI data. We've added notation support for time signatures like 12/8, 9/8, and 6/8. The Toolbar has been enhanced with skins and more customization. You can open and save ABC notation files, which are very common song files on the internet with chords and melody. The popular Song Titles Browser is enhanced with more songs (now over 10,000), filters, and the ability to show titles that work with a specific style. StylePicker enhancements include a mixer-like control allowing clear display and style customization. The RealDrums Picker has been enhanced with the option to find similar RealDrums. The Audio Edit window is redesigned with new a GUI and features. ...and more!
We've added 202 new RealTracks, double the 101 that we've often released in the past! Xtra Styles PAK 4 with 160 additional Xtra Styles. We also have over 120 new RealStyles for our new RealTracks including Americana, Klezmer, Top-40, Jazz Strings Pads, Vocals (Oohs and Aahs), New Crooner "Shout" BigBand styles, and more! There is a 49-PAK with 40 additional new RealTracks on top of the 202 above, so in total an amazing 242 new RealTracks are available!
202 new RealTracks with great new Pop, Rock, World, Jazz, Blues, Latin, Country, Americana, and Celtic styles. These include:
74 Country, Americana, and Celtic RealTracks
This collection features an array of newly requested styles and additions to classic sets, as well as a Band-in-a-Box "first" Background Vocals (10 RealTracks)! Our new Vocal Oohs & Aahs set features a 3-part vocal arrangement with 2 male voices and 1 female voice, each doubled for a total of a 6-voice ensemble. Americana has been one of the biggest user requests, and we've added twenty Americana grooves, with acoustic bass, amazing electric guitar from Brent Mason and Colin Linden, vintage electric piano, and sweet fiddle. There are also Country Singer-Songwriter RealTracks, with more acoustic guitars by Brent Mason and Colin Linden. We also have new 12-key Country guitars, pedal steel, bass, and piano. There are six new harmonica styles from "Jelly-Roll" Johnson, which sound fantastic over classic country grooves. And we have new "Canadiana" RealTracks complete with old time guitar, banjo, and footstomps. Eleven new Celtic Piano & Harp styles, featuring Scottish pianist Dave Milligan, will fit perfectly with Celtic ensembles from previous years.
68 Pop, Rock, and World RealTracks
These new RealTracks feature amazing new Pop, Rock, Klezmer and European styles! Five new Pop & Rock guitars from Brent Mason and Joe Robinson range from funky to folky with both acoustic rhythm and electric soloist styles. The extremely popular Band-in-a-Box Pop Songwriter toolkit now has eleven new acoustic songwriter guitar styles from Brent Mason, Colin Linden, Quinn Bachand, and Fintan O'Brien. Seven new soulful Southern Pop Drums styles from top session drummer Land Richards have been added. Accent these new drums with eight new Pop Percussion Singles, including congas, cowbell, tambourine, shaker, woodblocks, and afuche-cabasa. The Fretless Bass, Pop Keys & Punk Drums set boasts a versatile line of fretless electric bass, acoustic piano, organ, and hard-edged drum styles. Eight Modern Dancehall RealTracks are a Modern-Pop must-have, featuring percussive synth basses, pads, and electronic drums. A set of spirited Klezmer styles feature world-champion accordionist Cory Pesaturo accompanied by Neil Swainson on acoustic bass and Quinn Bachand on guitar, with matching RealDrums by Terry Clarke. Cory also features alongside Neil and Quinn with fourteen new French, Italian, and Swedish World Styles.
60 Jazz, Blues, and Latin RealTracks
We've added to our extremely popular "Crooner" Big Band styles with exciting new "Shout" Soloist RealTracks. A "Shout" Soloist is a big Band arrangement where all of the instruments are playing harmonized solos! These tracks feature an 11-part arrangement of trumpets, saxophones, and flute that can be used as an ensemble or selected as groups of individual soloists. We also have other great new jazz styles in the "Jazz Potpourri" set, including new 12-key Bossa and Waltz Guitar, Jazz Ballad Strings, Soul Jazz Piano from Mike Rojas (CMA Musician of the Year), as well as a variety of Jazz Percussion Singles such as bongos, congas, and triangle. The new Modern Jazz set includes four Neil Swainson acoustic modern jazz basses and six corresponding modern jazz drum styles from the legendary Terry Clarke. New additions to our Smooth Jazz & Fusion catalogue include acoustic basses, Latin & Slow 16ths electric piano from Jeff Lorber, brushes drums, and lush mark tree fills. Building upon the traditional Latin RealTracks from last year, we have seven new Mariachi styles! The set features a 6/8 style and a waltz, with the authentic instrumentation of Guitar, Vihuela, Guitarron (7). Three new Rootsy Blues guitars and pianos are included from Brent Mason, Colin Linden, and Mike Rojas. Seven Smokin' Fast Jazz Basses allow for smooth, fluent bass tempos up to 350 bpm!
30 Day Money Back Guarantee
Unconditional 30-Day Money Back Guarantee on all products purchased from PG Music Inc.
Contact Info
PG Music Inc.
29 Cadillac Ave Victoria BC Canada V8Z 1T3
Sales: 800-268-6272, 250-475-2874,
+ 800-4746-8742*
Tech Support: 866-983-2474, 250-475-2708, + 800-4746-8742*
* Outside USA & Canada where International Freephone service is available. Access Codes
Q: How do I get the latest version of Band-in-a-Box?
A: We have packages for first-time or existing customers. Use the convenient chart to find the right package for you.
Q: If I purchase the UltraPlusPAK or EverythingPAK, do I really get a free USB Hard Drive for no additional charge?
A: Yes, Band-in-a-Box is pre-installed on a hard drive. You can use it directly from the hard disk, or copy it to your computer.

Online now
Need Help?
Message from PGMusic.com sales and support team
Hi, have any questions? We're available to text chat.
Message from PGMusic.com sales and support team
Hi, have any questions? We're available to text chat.