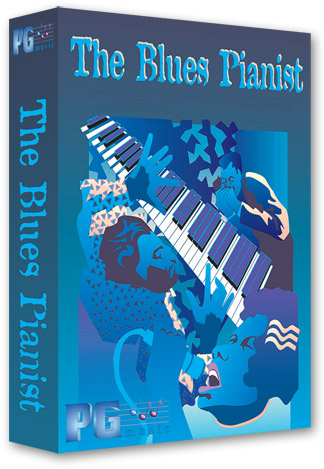 The Blues Pianist is a music program containing a library of original Blues tunes, performed by top studio musicians. These tunes cover a wide variety of Piano styles-- Boogie Woogie, Slow/fast boogies, jazz blues, New Orleans style, Chicago blues and more. These are the styles made famous by Pete Johnson, Albert Ammons, Jelly Roll Morton etc. Hours of listening pleasure! There are 50 pieces per volume. There are 2 volumes available.
This exciting program is an excellent tool for playing and studying a piano style that is both universally appealing and which underlies much of the blues, jazz, rock, and popular music played today. A blues piano background has served many jazz and blues players as their home base and first style mastered, in an analogous way that classical music has served many non-blues oriented players. Blues piano offers an extensive introduction to one and two-handed chording, to strong left-hand accompaniment, to a wide range of moods and emotional states, and to the necessity of using one's imagination to build structures which reach high levels of emotional intensity from simple, short melodic materials: many blues are 12 or 16 bars long and few have bridges.
The Blues Pianist offers a full range of playing techniques. Learn the pieces by watching the on-screen piano and/or the notation. Play the pieces in real time or slow them down, or better still--step through them one note or one chord at a time. You see the piano notes displayed on the screen or printed out in standard notation, so you can see exactly what notes are being played by the Blues Pianist.
This is a legacy version of the program that only runs on OS 9 and earlier. OS X users can purchase the MIDI files separately for $29.
Highlights
All pieces are complete performances artistically played, recorded & saved as Standard MIDI files.
All the pieces have been recorded "in real time" by top jazz/studio pianists on an 88 note weighted MIDI piano keyboard. They are never quantized or step recorded.
You'll hear the music playing with CD-quality through your sound card or MIDI system, just as if the pianist was in your home.
Wide variety of Blue styles. Solo virtuoso piano performances in Chicago"Muddy Waters" or "Ray Charles" style, or simpler arrangements in "Fats Domino" or "Jelly Roll" style. Lush ballad arrangements ("Otis Spann style") .Trio and quartet arrangements in modern jazz/blues styles. We've covered all the basses!
Special support for Roland GS or General MIDI modules: Sound Canvas or other General MIDI modules can use the built-in mixer to change volumes / patches / panning / reverb / chorus / tuning. Also supports non-General MIDI interfaces with drum kits for over 40 synths built in!
Listen to the music while you work in other programs: Playback continues in the background of other programs so you can listen to your favorite music while you work. Since the pieces are saved as Standard MIDI files, you can use these fabulous performances in your other music programs.
Use your existing sound card or MIDI synthesizer: Play the music back through your existing MIDI synthesizer, digital piano or sound module.
The Blues Pianist Includes:
Blues Trivia Game
Program Notes
Artist Biographies
Adjustable Notation
Wide variety of Blues styles
And more...
There are lots of ways to enjoy the Blues Pianist!
Money Back Guarantee
Unconditional 30-Day Money Back Guarantee on all products purchased from PG Music Inc.

BUY The Blues Pianist and DOWNLOAD NOW! $49
PG Music Inc. 29 Cadillac Ave Victoria BC V8Z 1T3 Canada
Sales: 1-800-268-6272, 250-475-2874, + 800-4746-8742*
*Outside USA and Canada where International Freephone service is available.

Online now
Need Help?
Message from PGMusic.com sales and support team
Hi, have any questions? We're available to text chat.
Message from PGMusic.com sales and support team
Hi, have any questions? We're available to text chat.