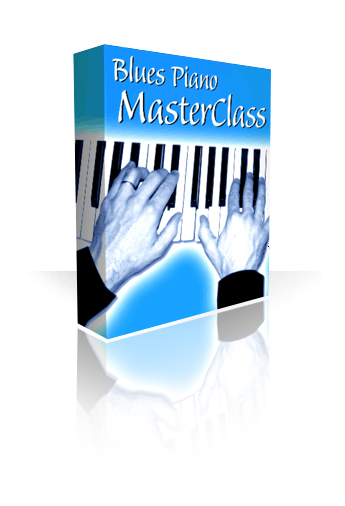 Blues Piano Master Class
Master Pianist Miles Black is your teacher in this multimedia software program designed to illustrate basic skills to the beginner Blues Pianist. In the Blues Piano Master Class Volume 1 – Beginner you will start to learn how to play the Blues. These 20 lessons will deal with Blues history, basic Blues form, simple chord construction, and learning to improvise a simple Blues melody over a few basic Blues styles. Blues Piano styles included are Boogie, Barrelhouse, Rag Blues, Jazz Blues, Rock Blues and more.
For new piano players who are developing their technique, this course offers very basic and simple exercises that build hand strength and dexterity. For those who don't read music notation, you can learn the lessons by watching the piano keyboard at the top of the screen. If you are interested in reading the notes, the music will also appear in notation on an optional music scroll.
Learn all of this and more!
1st Boogie Blues
1st Rock Blues
Basic C Blues
Blues in E
1st Walking Blues
Blues Riffs
1st E Blues Shuffle
1st Jazz Blues
7th Chords
Basic Blues Soloing
Basic chording
Featuring over an hour of audio lessons by Jazz recording artist and teacher, Miles Black. The course is designed for the beginner blues pianist or in aid to an instructor.
20 audio lessons, which feature over an hours worth of verbal and playing instruction, as well as actual keyboard and notation display.
High Quality Video, displaying the hand movements, fingering and other concepts learned in the lessons.
MIDI exercises (linked to each lesson), in which the complete concept is played by Miles, in tempo, either solo, or with bass and drums. These MIDI files are where you will do your practicing. You can play them at any tempo, or print them out for further study, and if you wish, you can mute Miles' playing and replace it with your own, or transpose it to any key or change the tempo. The exercises can be viewed in keyboard display and you can even toggle through them, chord-by-chord, for closer examination.
MIDI Song files where you can practice various chord progressions in all keys at varying tempos with bass and drums.
High Quality Notation. Key songs and lessons come with high resolution notation to print out as hard copy.
Whether you're a piano novice or you're teaching blues piano and wish to pick up a few tips ...
this is the interactive Multimedia program for you!
Money Back Guarantee
Unconditional 30-Day Money Back Guarantee on all products purchased from PG Music Inc.
PG Music Inc. 29 Cadillac Ave Victoria BC V8Z 1T3 Canada
Sales: 1-800-268-6272, 250-475-2874, + 800-4746-8742*
*Outside USA and Canada where International Freephone service is available.

Online now
Need Help?
Message from PGMusic.com sales and support team
Hi, have any questions? We're available to text chat.
Message from PGMusic.com sales and support team
Hi, have any questions? We're available to text chat.