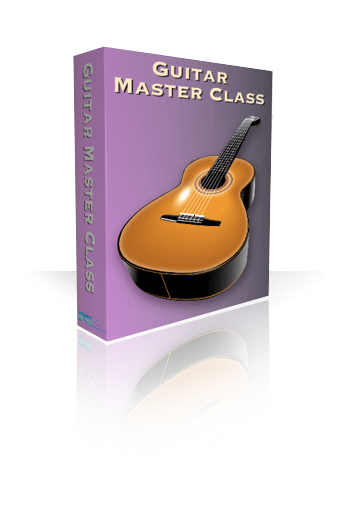 Guitar Master Class
Volume 1 - 3
Guitar Master Class - Master Guitarist Oliver Gannon is your teacher in these multimedia software programs that illustrate basic guitar skills and theory. Specifically designed for the beginner guitar student the Guitar Master Class Series helps develop skills on its own or as a valuable addition to any existing course of study. You′ll be playing your first songs after just a few short lessons!
Learning Guitar has never been easier!
Hours of extensive exercises designed to help you improve your reading, fingering and music theory.
On-screen guitar fretboard shows you which notes are being played.
Notes are color-coded with regard to key.
Feature Rich Multimedia.
Each lesson is accompanied by a ′lesson tip′, containing ideas on practicing, hand positions, tempos and more.
Focus on any section with the versatile loop feature.
Print all the lessons and leadsheets (chords and notation) to study anytime.
Learn at your own pace!
Guitar Master Class Volume 1 - Beginner
Guitar Master Class Volume 2 - Advanced Beginner
Guitar Master Class Volume 1 & 2 have a combined total of sixty topics which take you from the basics of the fretboard to the point where you′ll be playing along while reading music from the staff. Oliver Gannon covers the essentials - such interesting topics as: Guitar History, Chords, Time and Key Signatures, the Chromatic Scale, and reading music.
Typical chords and chord progressions for the key being discussed.
New chord variations, strumming patterns and fingerpicking patterns.
The scale fingerings and some scale exercises.
Practice tunes - chords and melody.
Quizzes.
Practice Exercises in MIDI and Band-in-a-Box formats.
Guitar Master Class Volume 3 - Intermediate
In the Guitar Master Class Volume 3 - Intermediate, guitarist Oliver Gannon will show you how to play transposable Barre chords, transposable scales and of course, transposable melodies. Each lesson focuses on a specific key. This Volume is a great preparation for the (advanced) Jazz Guitar Master Class series.
Learning these transposable chords and scales will teach you how to automatically transpose any new music you learn. By the end of Volume 3 you will have learned the secrets to playing in all keys by simply shifting positions.
Also covered are topics like reading rhythms and syncopations, the cycle of 4ths, simple chord substitution, chord types, new strumming techniques, octaves, adding single string effects such as vibrato, string-bending and sliding, hammer-on & pull-offs, string-damping with the right-hand, amplifiers, and electronic effects.
Money Back Guarantee
Unconditional 30-Day Money Back Guarantee on all products purchased from PG Music Inc.

BUY Guitar Master Class and DOWNLOAD NOW! Volume 1-3 $29 each or ALL 3 for $59
PG Music Inc. 29 Cadillac Ave Victoria BC V8Z 1T3 Canada
Sales: 1-800-268-6272, 250-475-2874, + 800-4746-8742*
*Outside USA and Canada where International Freephone service is available.

Online now
Need Help?
Message from PGMusic.com sales and support team
Hi, have any questions? We're available to text chat.
Message from PGMusic.com sales and support team
Hi, have any questions? We're available to text chat.