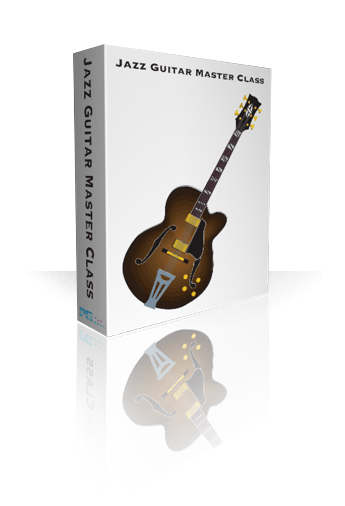 Jazz Guitar Master Class
Volume 1&2
The Jazz Guitar Master Class is a fully featured instructional music program containing interactive guitar lessons. Master Jazz Guitarist Oliver Gannon is your teacher in a software program designed to illustrate basic skills to the beginning guitarist and to enhance the skills of more advanced players.
Jazz Guitar Master Class is available in 2 volumes, with a combined total of 60 lessons!
60 Lessons
You′ll be studying 60 lessons with topics such as Chord Voicings, Inversions, Right Hand Techniques, Comping, Scales, Modes, Arpeggios, Common Progressions, Improvisation, Chord Melodies and more. Each lesson has an accompanying exercise and a tip on how to practice it. The lessons refer to the 10 program tunes, which feature common chord progressions in a variety of styles and tempos. There are also reference sheets and practice (backing) tracks.
Feature Rich Multimedia
We′ve digitally recorded 60 lessons (over 5 hours of verbal instructions) with more than 60 related MIDI and audio exercises, 60 audio exercise tips, as well as 11 practice tracks. All are linked to powerful multimedia features, allowing you to see and hear note-for-note exactly what Oliver Gannon is teaching. With the Jazz Guitar Master Class you can study the lessons, hear the music and play along with a top musician.
Learn the Skills
Develop pro skills by studying the extensive guitar exercises. Each exercise is accompanied by an ′exercise tip′, containing ideas on practicing, hand positions, tempos and more. Advanced multimedia features directly link each lesson to a suitable exercise. Loop, Pause, Advance and Backup controls make learning and practicing easy. With the Jazz Guitar Master Class you don't just hear how it's played, you see how it′s played!
Learning guitar has never been easier!
Over 5 hours of digitally recorded audio lessons covering complete topics.
On-screen guitar fretboard shows you which notes are being played.
Focus on any section with the versatile loop feature.
Print all the lessons and leadsheets (chords and notation) to study anytime.
Typical styles and progressions. This is ′learning by example′ at it′s best.
Reference Sheets
Practice Tips
Versatile Multimedia Features:
Jump to any position in the lesson.
Jukebox mode for continuous play.
Mark and play your favorite lessons.
Play along with the lesson ⁄ exercise in real time.
Money Back Guarantee
Unconditional 30-Day Money Back Guarantee on all products purchased from PG Music Inc.

BUY The Jazz Guitar Master Class and DOWNLOAD NOW! Volume 1 & 2 $29 each or Both for $49
PG Music Inc. 29 Cadillac Ave Victoria BC V8Z 1T3 Canada
Sales: 1-800-268-6272, 250-475-2874, + 800-4746-8742*
*Outside USA and Canada where International Freephone service is available.

Online now
Need Help?
Message from PGMusic.com sales and support team
Hi, have any questions? We're available to text chat.
Message from PGMusic.com sales and support team
Hi, have any questions? We're available to text chat.