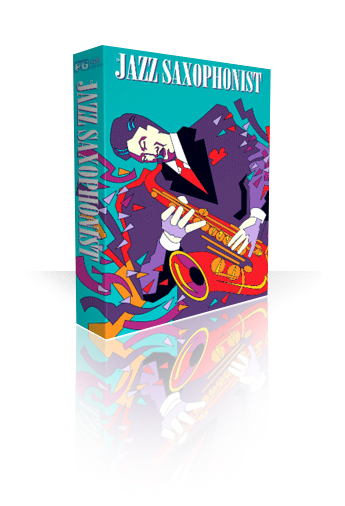 The Jazz Saxophonist
A 'must-have' program for students, teachers, and Jazz buffs!
You can enjoy, study, analyze, and play along with this exciting multimedia program, featuring a top studio Jazz quartet. The group consists of Tenor Saxophone (featured), Piano, Bass and Drums - all recorded on separate tracks. This is a killer program for the study of Jazz soloing and all rhythm section aspects (such as comping, bass lines, drumming techniques etc.) The Sax and Piano have notation which can be viewed (in sync with the audio) and printed out.
The Jazz Saxophonist encourages you to interact and dig in. Pick your instrument, soloist, or rhythm section; isolate a part or phrase using mute, solo and loop; check it out; when you've got it together, mute the original part and join the group.
The benefits of having a "real transcription" played in perfect synchronization to a live jazz quartet are obvious, taking the concept of "Backing Tracks" to a whole new level.
For the musician, this program contains a great deal of advanced material, covering a wide variety of jazz saxophone playing techniques and improvisational excursions. Specific examples of some of the more interesting fingerings and sound control techniques provide hours of inspiration. The benefits of sitting in with a professional quartet are numerous- and this "band" never gets tired or has other calls.
The Jazz Saxophonist turns a typical sound card equipped PC into a jazz performance powerhouse.
Tip: Pianists can study voicings and comping techniques from the MIDI piano track (recorded simultaneously with the audio piano track).
Jam with the Band!
The Multimedia features of The Jazz Saxophonist give you the ability to mute or solo any audio track independently and study or play the part yourself. On-screen notation shows you the music and chord progressions as it scrolls by in perfect time with the band. Unlike an ordinary CD recording, you can precisely control the audio mix by adjusting the volume and balance controls for each instrument.
Hot Jazz!
Play The Jazz Saxophonist through your computer speakers in jukebox mode for listening enjoyment or "jamming". Playback continues in the background of other programs so you can listen to your favorite music while you work. Select your own playlist of favorite songs, or let the program automatically play the entire library. All you need is a personal computer and a love of great jazz music!
Learn the Riffs.
Develop pro skills by studying the extensive performance notes. Each song is explained with 'inside' descriptions of techniques such as altissimo, shakes, growls and more. Advanced multimedia features directly link each performance note to a real example in the music tracks. Loop, Pause, Advance and Backup controls make learning easy. With The Jazz Saxophonist you don't just hear how it's played, you see how it's played!
Learning Sax parts has never been easier!
Separate audio tracks for each part (sax, piano, bass and drums).
Solo, mute, combine and mix the tracks independently.
Transpose the music to the key of your choice.
Focus on any section with the versatile loop feature.
Slow parts down for further study with the 1/2 time feature.
Print all the saxophone parts with chords and notation to study anytime.
Complete songs and accompaniments with intros, melodies, and soloing.
Versatile multimedia features.
Control audio playback with the mini-mixer window.
Transpose or change tempo 'on-the-fly'.
Jump to any position in the song.
Jukebox mode for continuous play.
Mark and play your favorite tunes.
Adjust volume, panning settings for individual parts. Mute or solo any part.
Split the keyboard into Right and Left hand parts automatically.
Play along with the performance in real-time on any instrument.
Money Back Guarantee
Unconditional 30-Day Money Back Guarantee on all products purchased from PG Music Inc.
PG Music Inc. 29 Cadillac Ave Victoria BC V8Z 1T3 Canada
Sales: 1-800-268-6272, 250-475-2874, + 800-4746-8742*
*Outside USA and Canada where International Freephone service is available.

Online now
Need Help?
Message from PGMusic.com sales and support team
Hi, have any questions? We're available to text chat.
Message from PGMusic.com sales and support team
Hi, have any questions? We're available to text chat.