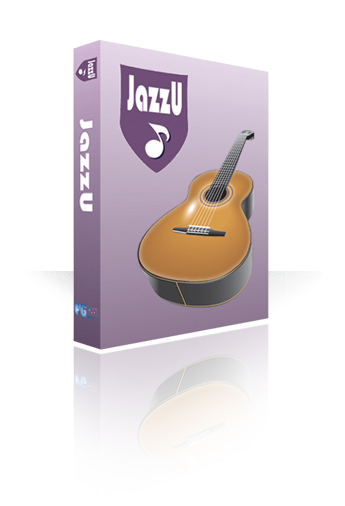 JazzU
JazzU offers all students of Jazz - players, teachers, arrangers, and Jazz lovers - an invaluable computer-based resource for the study of Jazz music with top instructors and players. JazzU faculty members are professionals whose credentials embrace both formal study and a wealth of experience as performers on the bandstand, the concert stage, and in the recording studio. For the student, JazzU offers the insights of top professional musicians and teachers who combine an appreciation of the rich Jazz tradition with the ability to play and teach in all styles and genres - Traditional, Dixieland, Swing, Bebop, Latin, Modern, Fusion, and beyond.
JazzU study is self-directed and interactive. A typical study unit might include:
Audio lessons, which feature verbal and playing instruction, as well as actual guitar fretboard, keyboard and notation display.
MIDI and Audio ⁄ MIDI exercises (linked to each lesson), in which the complete concept is played in tempo, either solo, or with bass and drums. They may also include Audio Exercise Tips with suggestions for playing each exercise. These MIDI files are where you will do your practicing. You can play them at any tempo, or print them out for further study, and if you wish, you can mute the instructor′s playing and replace it with your own. The exercises can be viewed in guitar fretboard and ⁄ or keyboard display and you can even toggle through them, chord-by-chord, for closer examination.
MIDI practice files where you can practice various chord progressions in all keys at varying tempos with bass and drums only.
Original tunes with typical chord progressions which cover the different styles and tempos. These are used as practical examples in the lessons.
Study Sheets (combining notation, graphics, and text) with additional information which can be printed out for further reference.
Let JazzU be your music school, and have fun!
Unit 1: Chords
Your program of studies at JazzU starts with the foundation of Jazz, the chords. For the true Jazz student, it is not enough to just know the chords - you must also know how to use them. The two modules (Piano and Guitar) in this core JazzU program provide instruction in chord types, chord voicings, and playing styles. Chords are taught for the piano and guitar, the two chording instruments at the heart of the Jazz rhythm section. These two 20-lesson modules should also be considered as required study for all instrumentalists and arrangers who want a true foundation in Jazz chords, styles, and voicings.
Guitar Chord Dictionary
The Guitar Chord Dictionary is an essential tool for any aspiring guitarist. Simply select any root note, and choose the chord you want to learn from the list of available chords. The selected chord will then be displayed on the on-screen guitar fretboard. The Guitar Chord Dictionary is the perfect tool for guitar players at any level.
Piano Chord Dictionary
The Piano Chord Dictionary is an essential tool for any musician. Simply choose a root note, select the chord you want to learn, and the Piano Chord Dictionary will display the chord on the on-screen piano keyboard. This extremely effective program is great for any musician who wants to learn more about chord structures.
Jazz Guitar Chords, Voicings, and Styles
This JazzU study unit features audio lessons by Jazz recording artist and teacher, Oliver Gannon. The main elements in these multimedia lessons are:
Lesson 1 Program Intro
Lesson 2 Introduction to the Chord Method
Lesson 3 Basic Chord Theory
Lesson 4 Chord Voicings
Lesson 5 Chord Inversions
Lesson 6 Chord Types
Lesson 7 The Chord Method - Phase 1
Lesson 8 Chord Method phase 2
Lesson 9 Chord Method - the remaining chord types
Lesson 10 Typical Chord Progressions
Lesson 11 Chords - Boundary Bay
Lesson 12 Chords - Dominant 7th Alterations
Lesson 13 Chords - Minor 9, Minor 11, Minor 13
Lesson 14 Right hand techniques
Lesson 15 Comping 1 - Solo, Duo and Trio situations
Lesson 16 Comping 2 - Comping styles for The Dream
Lesson 17 Comping 3 - Practicing chord voicings for Indigo
Lesson 18 Comping 4 - Comping in a Bossa style
Lesson 19 Comping 5 - Jazz Waltz style
Lesson 20 Comping 6 - Basic Blues - and Jay′s Blues
Jazz Piano Chords, Voicings, and Styles
This JazzU study unit features audio lessons by Miles Black. The main elements in these multimedia lessons are:
Lesson 1 Program Introduction
Lesson 2 Tune Discussion
Lesson 3 Roots & Shells
Lesson 4 Roots & Shells - Shells that are tricky
Lesson 5 Walking Baselines
Lesson 6 Adding shells with walking bass Lines
Lesson 7 Chord Voicings
Lesson 8 Stride piano
Lesson 9 Block Chords
Lesson 10 Block chords, continued
Lesson 11 Drop "2" block chords
Lesson 12 The MIDI exercise files
Lesson 13 Pop piano styles
Lesson 14 Role of Piano in Pop Music
Lesson 15 Pop piano accompaniment
Lesson 16 Pop - Soloing in a Trio situation
Lesson 17 How to improvise over Pop tunes
Lesson 18 Basic blues
Lesson 19 Blues turnarounds
Lesson 20 Minor blues
Money Back Guarantee
Unconditional 30-Day Money Back Guarantee on all products purchased from PG Music Inc.
PG Music Inc. 29 Cadillac Ave Victoria BC V8Z 1T3 Canada
Sales: 1-800-268-6272, 250-475-2874, + 800-4746-8742*
*Outside USA and Canada where International Freephone service is available.

Online now
Need Help?
Message from PGMusic.com sales and support team
Hi, have any questions? We're available to text chat.
Message from PGMusic.com sales and support team
Hi, have any questions? We're available to text chat.