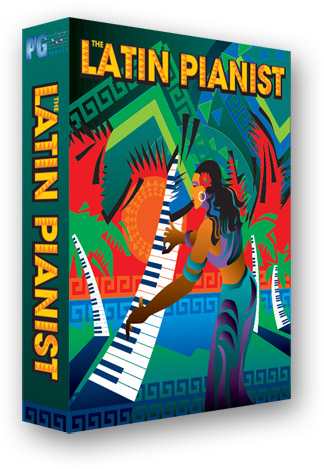 The Latin Pianist is an exciting addition to our Pianist series of music software programs. With over 50 tunes played on MIDI keyboard by top Latin Pianist Rebeca Mauleón-Santana, The Latin Pianist includes authentic Latin and Salsa piano songs and styles such as Conga, Cumbia, Merengue, Son, Mambo, Cha-cha-cha, Guaracha, Samba, Partido Alto, and much more.
We've recorded popular Latin pianist Rebeca Mauleón-Santana playing over 50 songs in a wide variety of Latin Piano styles. The on-screen piano keyboard shows you exactly what the pianist is playing. Slow down the piece or step through it chord by chord. Learn the music "note for note" by watching the notes on screen, or load the MIDI files into your favorite programs for further study.
This is a legacy version of the program that only runs on OS 9 and earlier. OS X users can purchase the MIDI files separately for $29.
Highlights
All pieces are complete performances artistically played, recorded & saved as Standard MIDI files.
All the pieces have been recorded "in real time" on an 88 note weighted MIDI piano keyboard. They are never quantized or step recorded.
You'll hear the music playing with CD-quality through your sound card or MIDI system, just as if the pianist was in your home.
Listen to solo virtuoso piano performances of popular Salsa and Latin styles, including Conga, Cumbia, Cuban Salsa, Latin Jazz, Samba, Guaracha, Brazilian, Caribbean-Hybrid, and many more.
Special support for Roland GS or General MIDI modules: Sound Canvas or other General MIDI modules can use the built-in mixer to change volumes / patches / panning / reverb / chorus / tuning. Also supports non-General MIDI interfaces with drum kits for over 40 synths built in!
Listen to the music while you work in other programs: Playback continues in the background of other programs so you can listen to your favorite music while you work. Since the pieces are saved as Standard MIDI files, you can use these fabulous performances in your other music programs.
Use your existing sound card or MIDI synthesizer: Play the music back through your existing MIDI synthesizer, digital piano or sound module.
The Latin Pianist Includes:
Latin Music Trivia Game
Program Notes
Latin Musician Biographies
Adjustable Notation
Dictionary of Latin Music Terms
And more...
About Rebeca Mauleón-Santana
All the pieces were composed and performed by world-renowned Salsa and Latin artist Rebeca Mauleón-Santana. Rebeca has performed and recorded with most of the greats in the Latin musical world, including Tito Puente, Carlos Santana and Israel Cachao Lopez. As the author of the acclaimed Salsa Guidebook for Piano and Ensemble, published by Sher Music and also co-editor of The Latin Real Book, also published by Sher Music (and both highly recommended), Rebeca is certainly an expert in this field. Aside from her pianistic, arranging and compositional skills, Rebeca is also a highly regarded specialist and teacher of Afro-Cuban music.
Composer's note:
Afro-Cuban music is rich in tradition and variation, and further study is highly recommended. It is also important to note that "Salsa" is not a rhythm, but rather a general term, which may be used to include a wide variety of rhythmic styles. Also, within the category of "dance music," "salsa" tends to be vocal music, whereas the term "Latin-Jazz" may be better used to describe instrumental music. These are generalizations, of course, but may give you a better idea of how these tunes might be presented in their typical settings.
Brazilian music, like Afro-Cuban, is rich in rhythmic variation, and tends to explore more contemporary jazz harmony and voicings. Although these examples are presented in both clave directions, Brazilian rhythms are usually not as "strict" when it comes to the effects of the clave on the ensemble. However, there are some similarities to Cuban montuno-playing, in that 2-3 clave direction montunos tend to start on the downbeat, and 3-2 patterns tend to start on the upbeat. Brazilian patterns for piano also often feature a constant, up-beat ostinato, which can be maintained in the left hand while soloing - a good exercise for coordination!
Rebeca Mauleón-Santana
Money Back Guarantee
Unconditional 30-Day Money Back Guarantee on all products purchased from PG Music Inc.

BUY The Latin Pianist and DOWNLOAD NOW! $49
PG Music Inc. 29 Cadillac Ave Victoria BC V8Z 1T3 Canada
Sales: 1-800-268-6272, 250-475-2874, + 800-4746-8742*
*Outside USA and Canada where International Freephone service is available.

Online now
Need Help?
Message from PGMusic.com sales and support team
Hi, have any questions? We're available to text chat.
Message from PGMusic.com sales and support team
Hi, have any questions? We're available to text chat.