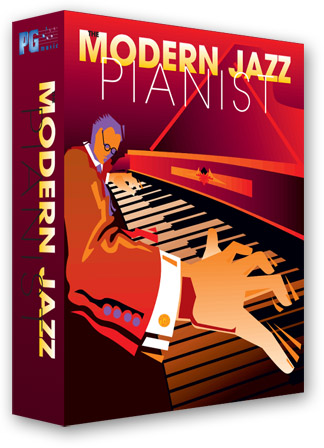 If you've ever wanted to check out some modern approaches to Jazz piano playing, this is the program for you. The music in the Modern Jazz Pianist encompasses most of the stylistic approaches from the Bill Evans era to the present.
All the pieces were composed and performed by world-renowned artists, Renee Rosnes, Brad Turner, Miles Black and Ron Johnston and most have been recorded on their various CDs. For example, the 15 tunes performed and composed by New York pianist Renee Rosnes (published by Second Floor Music) are all available on her many CDs (on the Blue Note, EMI, Criss Cross and Concord labels), including her latest, which features Jack DeJohnette, Christian McBride and Chris Potter. As well as leading her own very successful quartet, Renee has toured with Joe Henderson, Wayne Shorter, James Moody, Bobby Hutcherson, and J.J. Johnson.
The Modern Jazz Pianist features 50 MIDI performances in solo, duo and trio formats. Elements of style found in the playing of such pianists as Herbie Hancock, Kenny Kirkland, Cedar Walton, Richie Beirach and others are represented. Chord symbols, as supplied by the composer, are included. Most of the tunes are trio performances with piano, bass and drums. On-screen notation and Keyboard display are featured.
This is a legacy version of the program that only runs on OS 9 and earlier. OS X users can purchase the MIDI files separately for $29.
Highlights
All pieces are complete performances artistically played, recorded & saved as Standard MIDI files.
All the pieces have been recorded "in real time" by top jazz/studio pianists on an 88 note weighted MIDI piano keyboard. They are never quantized or step recorded.
You'll hear the music playing with CD-quality through your sound card or MIDI system, just as if the pianist was in your home.
Wide variety of Modern Jazz Piano styles. Listen to solo virtuoso piano performances in styles reminiscent of Herbie Hancock, Fred Hersch, Cedar Walton, Mulgrew Miller and more. We've covered all the bases!
Special support for Roland GS or General MIDI modules: Sound Canvas or other General MIDI modules can use the built-in mixer to change volumes / patches / panning / reverb / chorus / tuning. Also supports non-General MIDI interfaces with drum kits for over 40 synths built in!
Listen to the music while you work in other programs: Playback continues in the background of other programs so you can listen to your favorite music while you work. Since the pieces are saved as Standard MIDI files, you can use these fabulous performances in your other music programs.
Use your existing sound card or MIDI synthesizer: Play the music back through your existing MIDI synthesizer, digital piano or sound module.
The Modern Jazz Pianist Includes:
Modern Jazz Trivia Game
Program Notes
Modern Jazz Pianist Biographies
Adjustable Notation
Wide variety of Modern Jazz Piano styles
And more…
There are lots of ways to enjoy The Modern Jazz Pianist!
Money Back Guarantee
Unconditional 30-Day Money Back Guarantee on all products purchased from PG Music Inc.

BUY The Modern Jazz Pianist and DOWNLOAD NOW! $49
PG Music Inc. 29 Cadillac Ave Victoria BC V8Z 1T3 Canada
Sales: 1-800-268-6272, 250-475-2874, + 800-4746-8742*
*Outside USA and Canada where International Freephone service is available.

Online now
Need Help?
Message from PGMusic.com sales and support team
Hi, have any questions? We're available to text chat.
Message from PGMusic.com sales and support team
Hi, have any questions? We're available to text chat.