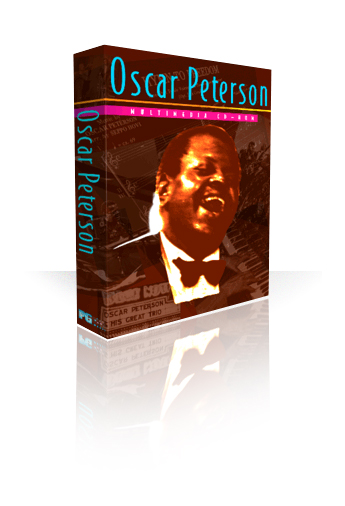 Oscar Peterson Multimedia Program
Feature Rich Multimedia Program - With this powerful and innovative new Multimedia engine, you can view and study every nuance of Oscar Peterson's virtuosity. For the first time it is possible to experience audio performances perfectly synchronized to the real time display of transcribed notation and an on-screen virtual piano keyboard. Use the full range of complimentary MIDI features to slow the tempo, step through the piece note by note, loop, or transpose to your favorite key.
14 Complete Audio/Video performances by Oscar Peterson
Hear Oscar Peterson perform some of his greatest recorded works, including The Smudge, Hogtown Blues, Chicago Blues, Place St. Henri, Nightingale, Hymn To Freedom, Night Time, and Blues for Big Scotia. You'll also see every note of Oscar's performance in notation and played in real time on the virtual piano keyboard. Watch fabulous full-length video performances of Place St. Henri, City Lights, Slow Blues (with Count Basie), The Theme , Bach's Blues, and Love Ballade.
10 MIDI transcriptions of famous Oscar Peterson blues performances
Precise 'note-for-note' transcriptions & performances of Oscar Peterson blues originals including Riff Blues, Blues Etude, Blues Of The Prairies, Greasy Blues (for Count Basie), Gay's Blues, Texas Blues, Ron's Blues, Kelly's Blues, R.B. Blues, Oscar's Boogie, and Blues For Big Scotia. Study the on-screen notation and piano display as you listen to over 100 choruses of authentic Oscar Peterson Blues.
Oscar Peterson Autobiography, Audio Anecdotes, and More!
Oscar's interactive autobiography is an intimate portrait of his life and music from the early days in Montreal to the present. A delight for Oscar Peterson fans.
Over two hours of audio commentary by Oscar Peterson
Oscar tells the story of his life, music, and the musicians he has worked with - Barney Kessel, Joe Pass, Ray Brown, Herb Ellis and many others. Includes musical analysis of the audio performances by Oscar himself!
A "must-have" library both for education and entertainment!
These 24 landmark selections are an essential addition to the library of Jazz fans, students, musicians and educators! Play the complete song list automatically in Jukebox mode for hours of listening pleasure, or use the powerful and innovative Multimedia features to pursue a fuller knowledge and understanding of the music that makes Oscar Peterson a Jazz legend.
Browse through over 100 of Oscar's favorite photos.
Memorable moments, musicians, landmark performances, awards, mementos and more. Use the built-in "Timeline" as a convenient guide to the highlights of Oscar's life and career.
Complete Discography
From 1945 to the present, Oscar has recorded over 3,000 pieces in over 400 sessions and over 1,000 albums! Instantly find the details of any recording.
Print the Music
Print over 200 full pages of 'note-for-note' piano transcriptions including chord symbols and articulations. Each page shows you exactly what Oscar is playing.
30 Day Money Back Guarantee
Unconditional 30-Day Money Back Guarantee on all products purchased from PG Music Inc.
PG Music Inc. 29 Cadillac Ave Victoria BC V8Z 1T3 Canada
Sales: 1-800-268-6272, 250-475-2874, + 800-4746-8742*
*Outside USA and Canada where International Freephone service is available.

Online now
Need Help?
Message from PGMusic.com sales and support team
Hi, have any questions? We're available to text chat.
Message from PGMusic.com sales and support team
Hi, have any questions? We're available to text chat.