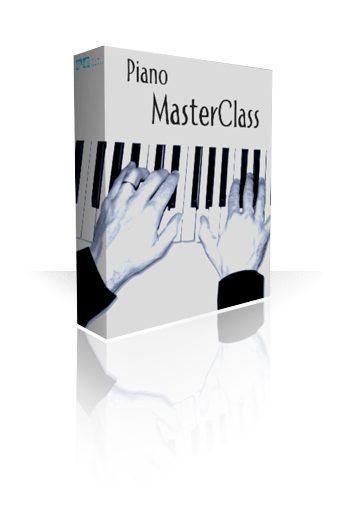 Piano Master Class Volume 1: Beginner
Master Pianist Miles Black is your teacher in this software program that illustrates basic keyboard skills and theory. Specifically designed for the beginner piano or keyboard student the Beginner Piano Master Class helps develop skills on its own or as a valuable addition to any existing course of study. You′ll be playing your first songs after just a few short lessons!
The fifty included topics take you from the rudiments of playing keyboard to reading music from the staff. Along the way, Miles Black will cover such interesting topics as:
The Major Scale
Triads
Comping
Improvisation
The Minor Scale
Piano Master Class Volume 1: Beginner integrates audio lessons with on-screen piano display and notation. Advanced multimedia features link each lesson to a suitable exercise. The loop, pause, advance and backup controls make learning fun and practicing easy. Nearly 3 hours of digitally recorded verbal instruction, plus exercises, study tunes, and leadsheets all linked to powerful multimedia features allow you to see and hear exactly what Miles Black is teaching.
Learning Piano has never been easier!
Hours of extensive exercises designed to help you improve your reading, fingering and music theory.
On-screen piano keyboard shows you which notes are being played.
Notes are color-coded for left and right hands.
Feature Rich Multimedia.
Focus on any section with the versatile loop feature.
Print all the lessons and lead sheets (chords and notation) to study anytime.
Learn at your own pace!
The Piano Master Class makes learning and practicing fun and easy. Don′t just hear how it′s played; see how it′s played.
Money Back Guarantee
Unconditional 30-Day Money Back Guarantee on all products purchased from PG Music Inc.
PG Music Inc. 29 Cadillac Ave Victoria BC V8Z 1T3 Canada
Sales: 1-800-268-6272, 250-475-2874, + 800-4746-8742*
*Outside USA and Canada where International Freephone service is available.

Online now
Need Help?
Message from PGMusic.com sales and support team
Hi, have any questions? We're available to text chat.
Message from PGMusic.com sales and support team
Hi, have any questions? We're available to text chat.