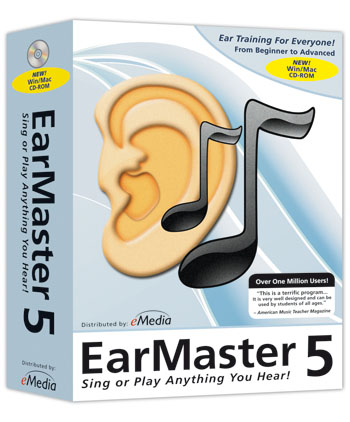 eMedia EarMaster
®

5 Pro

EarMaster ear-training will help you:
Memorize songs faster
Play and sing music exactly as you hear it
Read sheet music and "hear it in your head" instantly
Understand music at a deeper level
Perform with confidence in any musical situation
Ear-Training Tools
Standard & Jazz tutors with over 650 lessons
Create your own customized exercises
On-screen guitar, piano, violin, bass & others
Sing, play or clap answers into a microphone
Automatic guitar tuner and metronome
Variable tone range – from soprano to bass
Plays in any of 128 instrument sounds
Play with total confidence!
If you want to sing, improvise or jam with complete confidence, you need to recognize all the sounds around you. Ear training can make this possible. Making music with others will become easy and fun!
Designed for all students
EarMaster provides all the tools you need to hone your hearing skills, all the way up to a professional level. Instruction is available in 13 languages including English, Spanish, French, German, Mandarin and Japanese. EarMaster fills your needs regardless of your language, instrument or musical style.
Listens to your performance
You can sing or play answers to exercises into your computer′s microphone with any instrument you choose. The instant feedback you get on your answers will perfect your pitch accuracy and sight-reading skills. You can perform and input rhythm exercises by clapping into a microphone or using your computer mouse, keyboard, or any MIDI instrument. The interactive feedback will help you learn to play any rhythm, no matter how complicated.
Helps you set and achieve your goals
EarMaster provides you with detailed information on how your ear training has progressed. Have you become better at identifying the minor 7th chord within the past two weeks? How much time have you spent training your ears during the past month?
30 Day Money Back Guarantee
Unconditional 30-Day Money Back Guarantee on all products purchased from PG Music Inc.
PG Music Inc. 29 Cadillac Ave Victoria BC V8Z 1T3 Canada
Sales: 1-800-268-6272, 250-475-2874, + 800-4746-8742*
*Outside USA and Canada where International Freephone service is available.

Online now
Need Help?
Message from PGMusic.com sales and support team
Hi, have any questions? We're available to text chat.
Message from PGMusic.com sales and support team
Hi, have any questions? We're available to text chat.