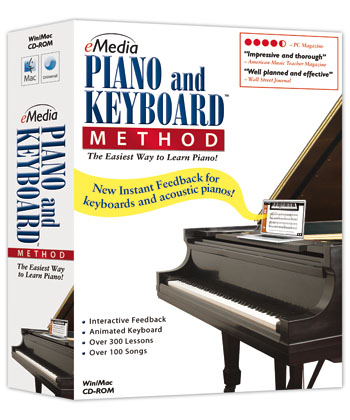 eMedia Piano & Keyboard Method Vol. 1
Learn songs and exercises from music notation as an animated keyboard guides you through fingerings. Songs and exercises are provided as both live-recorded audio and variable-speed MIDI tracks which let you slow the music down as needed. Colorful MIDI accompaniments help make practicing fun! You will learn over 100 popular classical, blues, pop, and rock songs, including hit songs from artists such as Billy Joel, Bob Dylan, and Elton John!
Interactive review and ear training quizzes help reinforce new concepts and develop your ear. When used with an electronic MIDI keyboard, you get Interactive Evaluation Feedback with detailed specifics on your playing, including which notes and rhythms were wrong and how to correct them. In addition, the new Note Tracker shows you what note you′re playing and makes learning music notation easy. This latest version also offers fully scalable lesson screens and an option for full-screen video. Other accessories include a built-in digital metronome and a recorder. eMedia Piano & Keyboard Method is the ultimate way to learn how to play piano or keyboard!
Features:
New Instant Feedback on Your Playing!
Instant Feedback shows you when you play the correct notes as you progress through a melody. Your computer will listen as you play and highlight correctly played notes in green. As you reach your goal of playing the melody correctly, you′ll discover that reading music notation is easier than you ever thought possible!
New Note and Finger Tracker!
The Note Tracker and Finger Tracker tools show you the note you play as music notation and on an animated keyboard. You′ll be able to correct your playing and learn to read music faster!
314 Step-by-Step Lessons
Arranged in twelve chapters, the lessons cover the basics such as hand position, rhythm and playing on black keys, then move on to more advanced concepts such as music notation, sight reading, intervals, chords and scales. On-screen teacher Irma Irene Justicia, M.A., provides clear and friendly instruction.
Piano and Keyboard Method features over 100 songs ranging from Classical, Pop, Folk, Rock, Blues to Country – making learning fun! Enhanced multi-track audio and colorful MIDI accompaniments enhance the learning experience.
Our Method includes hits popularized by artists such as:
Billy Joel ("Piano Man")
Elton John ("Candle in the Wind")
Los Lobos ("La Bamba")
Bob Dylan ("Knockin′ on Heaven′s Door")
Scott Joplin ("The Entertainer")
Ludwig van Beethoven ("Ode to Joy")
Spencer Williams ("Tishomingo Blues")
and more!
Animated Keyboard
Displays color-coded fingerings as the music plays. It allows you to see exactly how to play the song on a keyboard as you hear the music. Music tracking highlights the notes being played on the screen, making it simple to follow along.
Over 70 Large-Format Videos
Professional piano instructor Irma Irene Justicia, M.A., who has taught at the renowned Juilliard School of Music, guides you with over 70 videos with demonstrations of techniques – now larger, with enhanced quality! Many of the videos include split-screen displays with close-ups for a clearer perspective. You can even view them in full-screen mode if you want to.
Interactive Evaluation Feedback
When using an electronic MIDI–compatible keyboard, you can get specific feedback on note and rhythm mistakes made while playing to help you get it right the next time! Clicking on an individual feedback balloon brings up a keyboard showing you exactly what mistake was made and what should have been played. Also, an overall percentage score summarizes how well you did on the song.
Reviews and Ear Training
Interactive review and ear training screens help reinforce new concepts and develop your ear.
Piano Fingering and Guitar Chords
The piano fingerings help teach you the correct fingering for each note. Guitar chords are included so a friend who is learning guitar can play along with you. Piano fingerings and guitar chords can be toggled on or off for any screen.
Live recorded audio
Live recorded audio is included for all songs and exercises. Audio playback options include piano only, voice only, and full audio featuring both piano and vocal performances.
Variable-speed MIDI
Slows down the audio to any tempo, while the Animated Keyboard shows song fingerings as the music plays. You can play along and learn at the pace best suited to you!
MIDI playback options let you select left or right hand only, or a metronome click track to play along with. Colorful variable-speed MIDI accompaniments are also available and can be fun to play along with!
Progress Tracking
Personalized reports show your rate of progress, including scores for specific songs (when using a MIDI keyboard).
Keyboard Tips
With the click of a button, you can get suggestions as to which "voice" to use on your MIDI keyboard to get the best sound for the song!
Digital Metronome
Allows you to set your own tempo and work on your speed, rhythm and timing. Provides both visual cue and/or audio tick. Full range of tempi, from largo to presto.
Digital Recorder
Record and play yourself back! This feature allows you to compare your recordings with the instructor′s version, fine tune your skills and share your recordings with friends and family.
30 Day Money Back Guarantee
Unconditional 30-Day Money Back Guarantee on all products purchased from PG Music Inc.
PG Music Inc. 29 Cadillac Ave Victoria BC V8Z 1T3 Canada
Sales: 1-800-268-6272, 250-475-2874, + 800-4746-8742*
*Outside USA and Canada where International Freephone service is available.

Online now
Need Help?
Message from PGMusic.com sales and support team
Hi, have any questions? We're available to text chat.
Message from PGMusic.com sales and support team
Hi, have any questions? We're available to text chat.