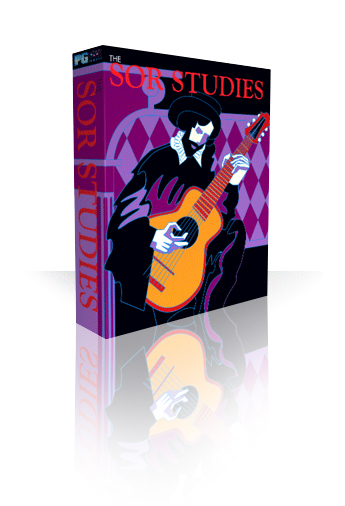 The Sor Studies
The Sor Studies for Classical Guitar is a full-featured music program containing the complete 121 studies written by Fernando Sor for classical guitar
This multimedia program features three CD-Roms packed with the complete 121 Sor Studies for the Classical Guitar, with onscreen and printable notation in sync to the music. Over 40 of the pieces have complete color video performances. The screen can be viewed in 3 modes: video and notation combination, video only or notation only. There are performance notes by Alexander Dunn, a short Sor biography and occasional excerpts from the acclaimed Sor biography by Brian Jeffery, "Fernando Sor: Composer and Guitarist" and more.
About the Performances
World-renowned guitarist Alexander Dunn performed these pieces live to camera. There is no editing. For accuracy, he performed from the earliest available facsimiles of the music - from the VOB collection. All pieces have notation which is in sync with the audio and which can be printed out. There are right-hand and left-hand fingerings and performance notes by Mr. Dunn. For those guitarists who might be coming from the Pop/Jazz world, we have included chord symbols to facilitate chord note recognition. For clarity, these represent the general harmony of a 2-beat section and not necessarily every passing chord. In order to have the guitar neck totally steady for filming it was necessary for Alexander to perform on a guitar that was fixed in place.
About the 121 studies
It has been said that this collection of studies, written in the early 1800's, is to the guitar what Bach's Well Tempered Clavier is to the piano. Almost every possible classical guitar technique is addressed. Aside from being pleasing and memorable melodies, they are also great arrangements. The collection comprises 6 Opuses, which were written during different periods of Sor's life. We have arranged the Opuses in order of easier to hard, although the tunes within each Opus tend to become progressively more difficult. Opuses 6 and 29 are considerably more difficult than the others.
Create your own Sor Studies Book
By printing out all the pieces you can easily create your own book of the complete Sor studies. You can practice the pieces either by reading directly from the screen or from the more traditional way of reading the printed music. The program's 'looping' feature is an invaluable aid for practicing selected passages. Please note: if you choose to read directly from the screen you will probably want to ensure that 'Notation Scrolls Ahead' is checked in the general options page.
For Beginners
Because of the way the Opuses are arranged --easier to harder, a good strategy for a beginner might be to learn the first five pieces of opuses 44, 60, 35 and 31. This is because, within each opus, the tunes tend to become progressively more difficult.
Sit back and enjoy
Enough of this studying and practicing! You might want to just relax and have hours and hours of this beautiful classical guitar music playing in 'juke box' fashion. Or just have it play your favorites.
Money Back Guarantee
Unconditional 30-Day Money Back Guarantee on all products purchased from PG Music Inc.
PG Music Inc. 29 Cadillac Ave Victoria BC V8Z 1T3 Canada
Sales: 1-800-268-6272, 250-475-2874, + 800-4746-8742*
*Outside USA and Canada where International Freephone service is available.

Online now
Need Help?
Message from PGMusic.com sales and support team
Hi, have any questions? We're available to text chat.
Message from PGMusic.com sales and support team
Hi, have any questions? We're available to text chat.