Using the Band-in-a-Box® Plugin with Cakewalk
Last updated: Wednesday, 11 May 2022
Website
http://www.cakewalk.com
Plugin Type
VST3 64
Default Plugin Folders
C:\Program Files\Common Files\VST3
C:\Program Files\vstplugins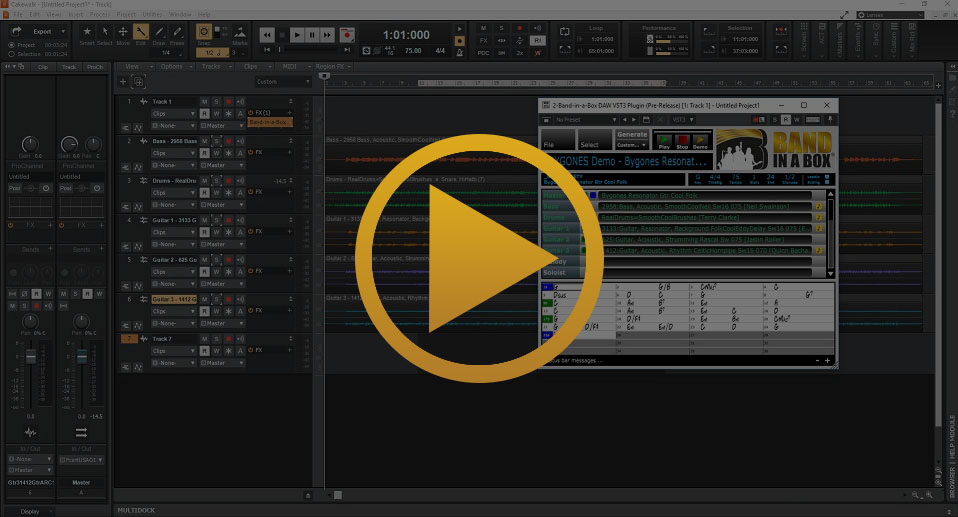 Video: Using the VST DAW plugin in Cakewalk
Quickstart Guide
Cakewalk supports the VST3i version of the Band-in-a-Box® Plugin and will find the plugin if it was installed to the default location. If you installed the plugin to a different location, add the new plugin directory through Cakewalk by going to Edit > Preferences > VST Settings. Create a new track in your Cakewalk project and load the Band-in-a-Box® Plugin to it by clicking the Plus Sign beside FX. Then simply generate the tracks in the plugin and drag them back to your project as a stereo mix or as individual tracks.
Installation
Run the Band-in-a-Box® Plugin installer
Open Cakewalk and go to Edit > Preferences > VST Settings
Make sure your plugin folders are correct (see above)
If You installed the Band-in-a-Box® Plugin to a custom location, add the directory here
Press the Scan button
Create a new audio track by going to Insert > Audio Track
Click on the double down-arrows on the new track to expand it
Click on the plus sign beside FX to add the Band-in-a-Box® Plugin to the Track
Tips & Tricks
Dragging Your Tracks Into Cakewalk
Luckily, Cakewalk makes it very easy for you to drag your tracks from the Band-in-a-Box® Plugin. For example, you can drag from the blue rectangle beside Master in the Band-in-a-Box® Plugin and drop it in a blank space of the Cakewalk tracks window. This will automatically generate Separate tracks for all of your Band-in-a-Box instruments.
Easy Loop Playback in Cakewalk
Say you want to practice a particular part of a guitar solo that you generated in Band-in-a-Box. This is easy thanks to Cakewalk's looping features. Just make a selection in Cakewalk's time ruler (where the minutes/seconds or bars/beats are displayed) and then hold down Shift + L. Once you are done with loop mode, just hit the L key.
Make Your Track Waveforms Bigger or Smaller
By default, Cakewalk will make new tracks very small. You can expand them one-by-one by clicking on the down-arrows on the tracks. However, you can make them bigger all at once by holding down CTRL + Down. If you want to make them smaller, just hold CTRL + Up.
Reduce Clutter in Cakewalk
You will be greeted with panels on the left and right sides of Cakewalk when you first open your project. The panel on the left side is a mini mixer channel view with the Master and the currently selected track. You can make it disappear by clicking on the icon of two left-facing arrows in the upper-left corner of the panel. On the right side of your window, you will see a multi-purpose panel that shows you plugins, notes, and media. You can hide it by pressing the icon of two right-facing arrows located in the top-right of the panel.
Support
I Can't Find The Plugin in Cakewalk
The Band-in-a-Box® Plugin is listed as an instrument plugin and can be found under the "Insert Soft Synth" menu item when adding a plugin in Cakewalk.
Cakewalk is Out Of Sync with The Plugin
Please make sure that you have set the correct BPM (tempo) and time signature for your project in the transport section of Cakewalk at the top of the screen.
I Can't Find My RealTracks, RealDrums, or RealStyles
From the Band-in-a-Box® plugin, go to File > Preferences and select the correct directories for your Band-in-a-Box® installation, your RealTracks folder, and your RealDrums folder. The default locations are listed for your convenience. You can either type them in or browse to them with the Select buttons.
I Can't Make an Instrument Track in Cakewalk
When you are creating a track for the Band-in-a-Box® Plugin, the easiest method is to go to Insert > Audio Track as opposed to using the Tracks menu that is located below the transport. There is an option to create an instrument track from the Tracks menu, but is intended to link existing MIDI and audio tracks, not create a brand new track.
External Resources
Cakewalk User Forum
The Cakewalk User Forum is a great place to find information about the program and engage in community discussion. This is the place to go if your questions aren't answered anywhere else.
Cakewalk Tutorials
BandLab has provided some basic tutorials for Cakewalk that will help you get started with their software.
Cakewalk Forum Post: Resources and Utilities
This crucial forum post in the Cakewalk User Forum tells you where to find Cakewalk resources like instrument definitions, drum maps, plugin presets, FX chains, plugins, skins, and more!
Money Back Guarantee
Unconditional 30-Day Money Back Guarantee on all products purchased from PG Music Inc.
Contact Info
PG Music Inc.
29 Cadillac Ave Victoria BC Canada V8Z 1T3
Sales: 800-268-6272, 250-475-2874,+ 800-4746-8742*
* Outside USA & Canada where International Freephone service is available. Access Codes
Tech Support: Live Chat, support@pgmusic.com

Online now
Need Help?
Message from PGMusic.com sales and support team
Hi, have any questions? We're available to text chat.
Message from PGMusic.com sales and support team
Hi, have any questions? We're available to text chat.