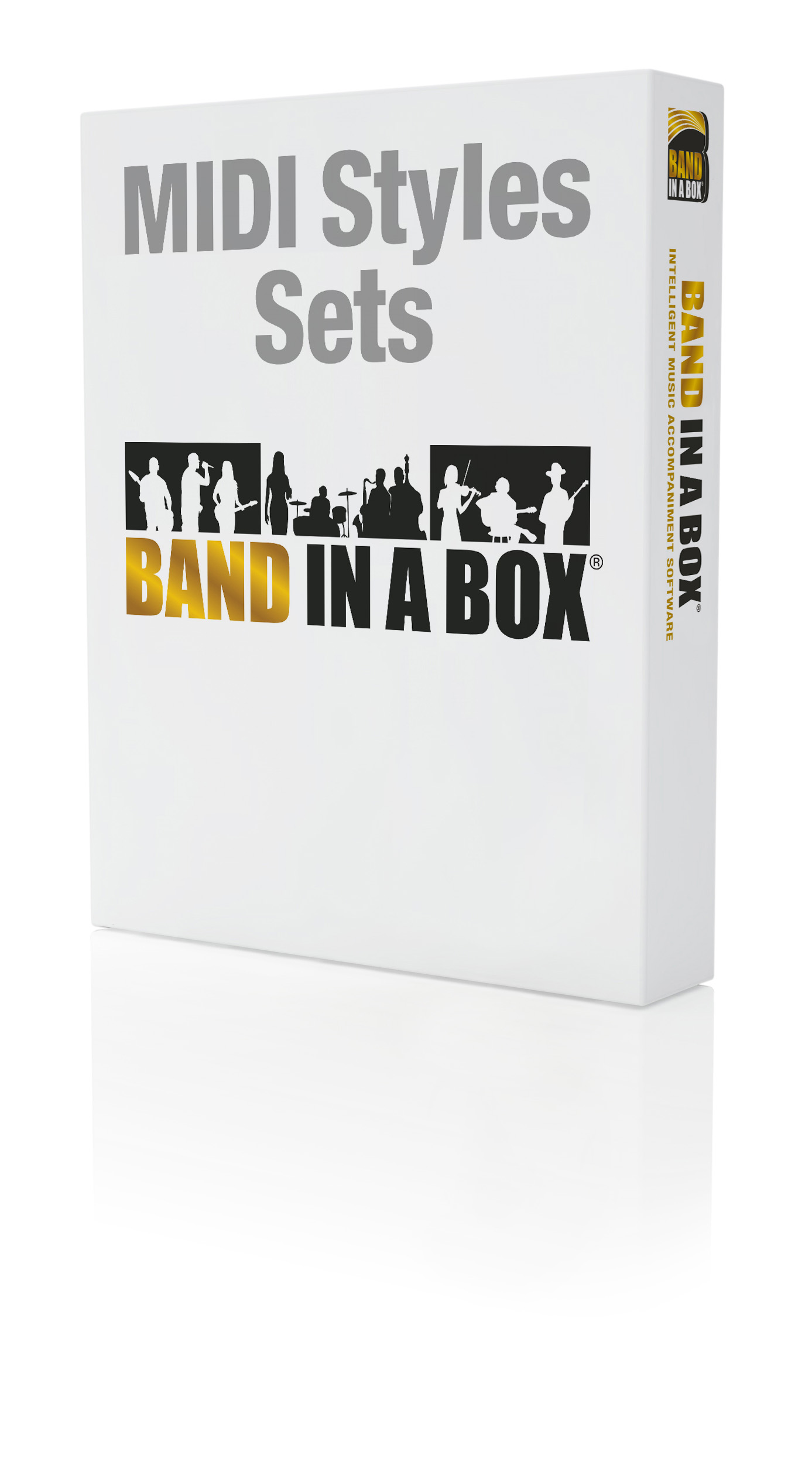 MIDI Styles Set 50: Soundtracks
The soundtrack music styles in Styles Set 50 enable you to quickly create background music for many projects such as home movies, corporate presentations, your latest movie creation, voice-over backgrounds or any other uses. Of course these styles can also be used as regular Styles. You can think of these styles as a kind of blank mood canvas, over which you can add your own melodic content. Each style's mood can be easily identified by its name. Styles include: Bluesy1, Excite1, Funny1, Joyous1, Mystery1, and many more. Includes Soundtracks MIDI Fakebook with 60 complete tunes. These royalty-free songs are ready for you to use as is or change to suit your own needs.
BlGrass1 - BlueGrass Soundtrack [BLGRASS1.STY]

Soundtrack Style with a sw.16th, Bluegrass mood. Ac. Bass, Banjo Pickin', Ac. Guitar, Nyl. Guitar, Brushes. Add tambourine at 'b'. Examples: Gentle On My Mind, BG music w/ happy mood. T= 80-150

Bluesy1 - Blues Shuffle BG style [BLUESY1.STY]

A blues shuffle Soundtrack Style. Ac. Guitar & drums (brushes). At 'b', add nyl. Guitar, Honky Tonk Piano Fills & ac. Bass. Examples: St. Louis Blues, Bluesy Mississippi Background music. T = 60-120

City1 - Urban jazz Soundtrack st [CITY1.STY]

Slick urban, ev.8ths, 70s jazz funk background w/ drums, bass, warm pad. At 'b' add synth strings, extra percussion, & brass shots. Examples: For the City, Any Urban Soundtrack mood. T= 80- 130

City2 - 70s funky Soundtrack gro [CITY2.STY]

Real funky ev.16ths urban groove ala 70's. This Soundtrack Style has Clavinet, Room Drums, Electric Bass. Add Strings pad at 'B'. Examples: Never Can Say Goodbye, Breezin'. T = 70-110

Country1 - Ev.8 Country Soundtra [COUNTRY1.STY]

Gentle 4/4, ev. 8 Country feel for Soundtrack Style. 5 insts: Ac. Guitar arps, Ac. Bass, Brushes. At 'b' add Piano, Guitar 2, louder drums. Examples: Country Soundtrack. T= 70-140

Excite1 - Energetic Soundtrack s [EXCITE1.STY]

Fast, 80's ev.8ths 'corporate rock' Soundtrack Style w/ synth bass 8th notes, power drums, mt. guitar 8ths, poly synth ostinato 8ths. At 'b' add dist. guitar. Examples: Johnny B. Goode, Proud Mary. T= 140 -200

Exotic1 - Slow, Exotic Soundtrac [EXOTIC1.STY]

Exotic BG Style - slow world-beat in 9/8 time. At 'a', Marimba, Kalimba, Warm-Pad bass notes, Perc. At 'b' add Warm-Pad chords, Sitar, extra perc. Examples: Use as an exotic mood background. T = 60-100

Float1 - New Age Soundtrack styl [FLOAT1.STY]

Floating, new age, ev.16, Soundtrack Style w/ Soundtrack, 16th ost. el.piano, 16ths ost. Pad-Bell, warm pad, triangle, shaker, clave. Examples: Use for slow New Age Soundtrack moods. T = 60-100

Funny1 - Goofy 3/4 circus music [FUNNY1.STY]

Goofy 3/4 circus music Soundtrack Style w/ bassoon bass part, ocarina chords on 3&4, orchestral drums oom-pah-pah, hi music box. Add trombone at 'b'. Examples: Old Smokey, any waltz, BG music. T=150 -220

Healing1 - Meditative Soundtrack [HEALING1.STY]

Meditative, slow, quiet, ev.8, 4/4 Soundtrack Style w/ Harp, Seashore, Pads, gentle 8ths on shaker. Add triangle at 'b'. Examples: Peaceful Background music. T= 60-130

Jazzy1 - Cool Jazz Soundtrack st [JAZZY1.STY]

Very cool sw.8 jazz Style w/ Ac. Bass in "2", Guitar on 2&4, Brushes. At 'b' add piano, guitar comps 4 to the bar, bass walks, drums ride, add congas. Examples: Steppin' Out, any cool jazz BG Style. T = 70-120

Joyous1 -Upbeat Soundtrack Style [JOYOUS1.STY]

Upbeat ev.8ths Soundtrack Style w/piano, bass and soft drums. Pop Style with ostinato hi-synth (brightness) part. At 'b' add hi strings, and tambourine on 2&4. Examples: Carrie, Yellow Taxi. T=120-200

Majesty1 - Majestic Soundtrack m [MAJESTY1.STY]

Loud ev.16 Soundtrack Style w/ Snare Drum, French Horns, Low Strings. At 'b', add Full Strings, Timpani, Cymbal Crashes on '1', Full Choir. Examples: Majestic Soundtrack Styles, Fanfares. T= 60-120

Mystery1 - Mysterious 3/4 Soundt [MYSTERY1.STY]

Dark, brooding 3/4 Soundtrack Style - sounds best in minor keys. Drums, syn strings bass, pad sweep 8ths, pad bowed, warm pad roots. Fuller at 'b'. Examples: Any 3/4 Background tune with mysterious mood. T= 75-140

Mystery2 - Brooding 3/4 Soundtra [MYSTERY2.STY]

Variation of Mystery1.sty, this 3/4 Soundtrack Style has ostinato harp 8ths and pads. Examples: Any waltz, any 3/4 Soundtrack Style with mysterious mood. T= 75-140

PianoMood1 -reflective Soundtrac [PNOMOOD1.STY]

Soundtrack Style with soft and reflective ev.8ths mood. Piano 8ths, frt. bass, warm pad & soft hi-hat 8ths. At 'b' add strings & extra drums/percussion. Examples: My Song, Rainy Days and Mondays. T=90-125

PianoMood2 -Gentle Soundtrack st [PNOMOOD2.STY]

Gentle 3/4 (like 9/8) LH piano ostinato ev.8th's with soft synth string bass notes. At 'b' add harp and synth string pads. Examples: Goodnight, Moon River, gentle Soundtrack moods. T =60-140

Space1 - Spacious Soundtrack sty [SPACE1.STY]

BG Style w/ spacious pads, no drums or percussion. Bass-sci-fi, piano-synth strings 2, guitar-brightness at 'b', choir aahs. Examples: Use this Soundtrack Style for a Spacious mood. T=80

Tropics1 - Carribean-Reggae Soun [TROPICS1.STY]

Caribbean-Reggae swing Soundtrack Style w/ marimba, light drums, frt. Bass, bird whistles. Add strings pad at 'b'. Examples: Don't Worry, Be Happy, Tropical BG music mood. T= 90-150

Uplift1 - Motivational Soundtrac [UPLIFT1.STY]

Motivational 4/4, fast ev.16ths w/ 16th brushes, ac. bass 8ths, piano comps, strings pad. At 'b' add 16th ac. guitar strum, percussion. Examples: Use this Style for fast ev.16ths Soundtrack. T= 90-150

Uplift2 - High Energy Soundtrack [UPLIFT2.STY]

Driving Motown fast ev.8 R&B Rock w/ El. Bass, Drums, Piano & Clav. At 'b' add Rock Organ, Tambourine, Ride Cymbal, Snare Drum. Examples: Use for any high-energy Soundtrack Style, Proud Mary. T= 120-180
Money Back Guarantee
Unconditional 30-Day Money Back Guarantee on all products purchased from PG Music Inc.
Contact Info
PG Music Inc.
29 Cadillac Ave Victoria BC Canada V8Z 1T3
Sales: 800-268-6272, 250-475-2874,+ 800-4746-8742*
* Outside USA & Canada where International Freephone service is available. Access Codes
Tech Support: Live Chat, support@pgmusic.com

Online now
Need Help?
Message from PGMusic.com sales and support team
Hi, have any questions? We're available to text chat.
Message from PGMusic.com sales and support team
Hi, have any questions? We're available to text chat.