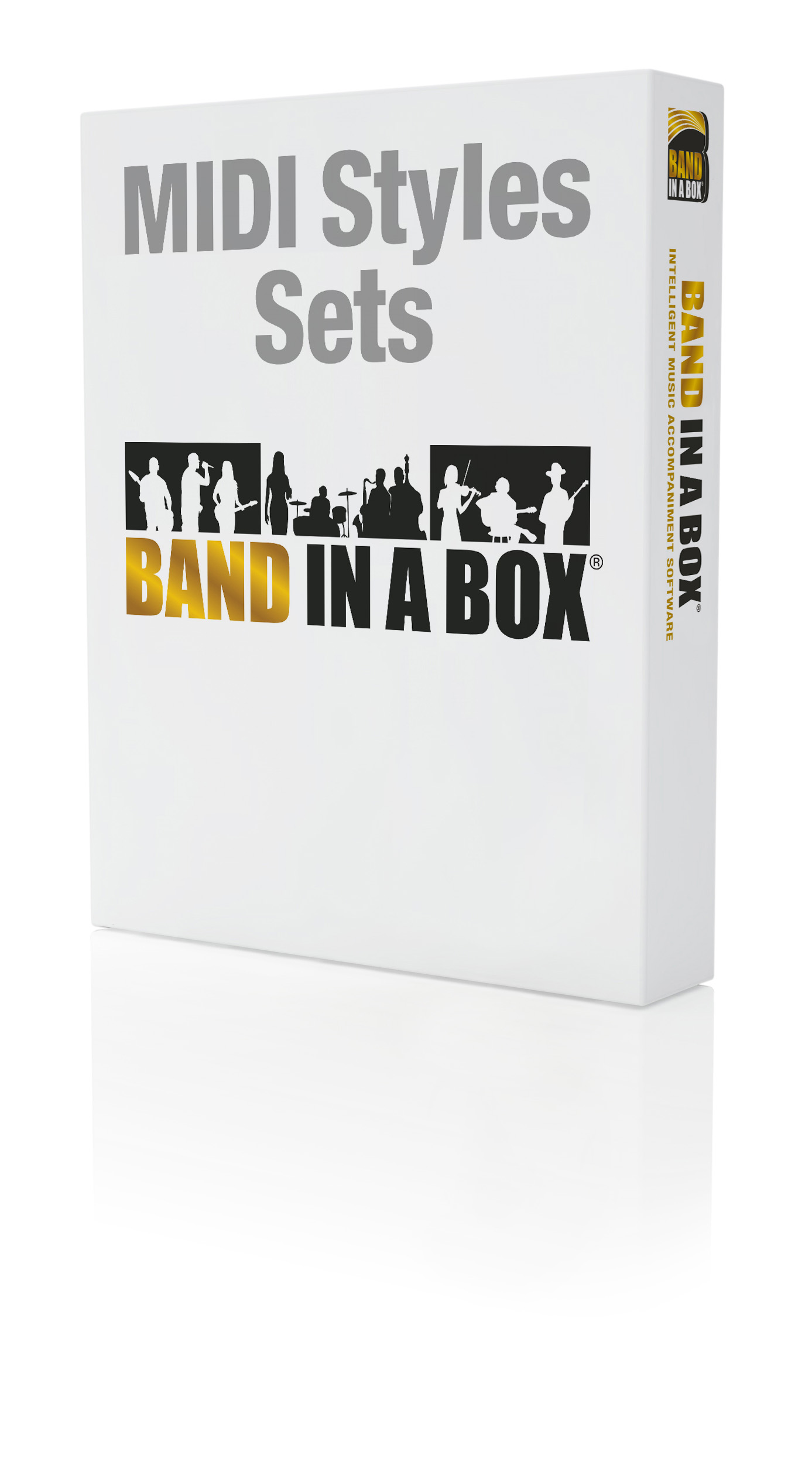 Bright - Slow 80s ev8 Rock [BRIGHT.STY]

This style has an un-busy feel in the A-section where it features soft WarmPad chords, sparse Rap TR808 Drums with 8th-note shaker & percussion, repeated-note (dotted quarter, 8th) bass line and single-note acoustic guitar. The B-section has a more driving groove; - busier bass and drums, Brightness 101 replaces WarmPad, volume and intensity increases and Clean Electric Guitar plays sustained arpeggio figures.

Chunky - 90s basic ev8 Rock [CHUNKY.STY]

This style has a simple but funky groove at a medium-tempo. The 2 guitars, Muted and Clean, provide a chunky comping effect, the rock organ plays a pad with some fills and the bass and drums play the classic rock rhythm. At B, the intensity is bumped up a bit and the guitars have a more strident sound. T=115

Cruisin - Lively 70s Classic Roc [CRUISIN.STY]

Lively 70s Rock with a medium-up even 8th feel. The bass plays the familiar dotted-quarter, eighth pattern with lead-in figures, and the drums provide a solid back-beat throughout. The bright piano comps (with fills) and the acoustic guitar strums, changing to clean guitar 'chicks' on 2 & 4 at B. The Rock Organ (pads and fills) changes to off-beat Brass figures at B. At B, the volume and intensity is increased and brass and tambourine are added.

Doubles - Slow ev8 Pop-Rock [DOUBLES.STY]

This is a peaceful sounding ballad style featuring 2 guitars (acoustic guitar and muted guitar) in the A-section. There is also a very quiet PolySynth pad at A. The B section is considerably livelier with the addition of drums, fretless bass, fuller Poly Synth and Clean Electric Guitar (changed from acoustic). T=80

Flashed - Driving 70s Classic Ro [FLASHED.STY]

This 70s Rock groove has a driving even 8th feel at A (the bass plays repeated 8th notes). At B, the feel changes to a half -time feel (drums play backbeat on the 3rd beat).

Highway - 80s ev8 Classic Rock [HIGHWAY.STY]

This style features 3 electric guitars; (28/1 Electric Guitar (detuned clean), 31/1 Distortion Guitar w/feedback and 30 Overdrive Guitar - as well as Slap bass 37 and drums. At B, the rhythmic feel changes to pushes into the 3rd beat.

Invited - Classic ev8 Rock [INVITED.STY]

One of the main features of this Style is the 8th note push into bar 1 (of 2). This gives the feel a sense of forward motion. Rock - with 3 electric guitars and bass & drums. The B-section has a livelier feel with hand-claps, increased intensity, and instrument changes (guitar 28 to Rock Organ 19 and guitar 29 to strat). T=132

Main Street - Classic Country Ro [MAINST.STY]

This 70s Rock-Country style features an easy groove in the A section, with the Electric Bass playing easy dotted-quarter, 8th rhythm, the Piano playing a sparse comp, the acoustic Guitar playing an 8th based strum and the detuned clean guitar playing mainly 2 & 4 high 'chicks'. T=130

Piano Ballad - Slow ev16 Piano B [PNOBAL.STY]

Simple acoustic piano solo style based on a slow tempo, even 16th feel. Solo piano at A . At B, a sustained fretless bass, shaker and soft slow strings join in. T=90

Racer - Ev8 fast Rock [RACER.STY]

This up-tempo Rock style features 8th-note pushes (drums, bass and organ), active bass lines, organ with fills, and strat guitar (high 2 & 4). At B, add more intensity, tambourine and muted guitar on repeated staccato roots. The drum set is Power Drums. T=150

Sailing - 70s medium ev8 Rock [SAILING.STY]

This medium-tempo Rock style feaures 2 electric guitars (clean and overdrive) punching out the rhythm with a strong back-beat and some pushes. The electric piano stays out of the way, providing comping and fills. At A, the drums play a low Tom figure (on 1, and-of-2, and 4) as well as a strong backbeat. The bass plays the typical dotted quarter and 8th figure. At B, there are 2 instrument changes; the Electric Piano changes to Electric Piano 2 and the Overdrive Guitar changes to Rock Organ. The intensity increases and the drums add handclaps and tambourine.

Sender - Very Slow ev8 Rock [SENDER.STY]

This Rock ballad style features a full bright acoustic Piano (comping and fill treatment), with fairly sparse and unobtrusive fretless bass, drums, and 2 pad instruments - Pad-Poly Synth and Slow Strings. T=60

Session - 80s Rock, ev8 Jam [SESSION.STY]

This is a blues-flavored medium-tempo style featuring brass fills, acoustic piano comping and detuned clean guitar. The drums play a fairly typical rock groove throughout. There is a rhythmic figure played by the bass and piano - a push into beat 3. At B, the piano plays high 8th-note chords and the volume and intensity are increased. T=115

Shiner - 90s (ev8) Pop-Rock [SHINER.STY]

90s Pop-Rock with even 8th feel. This style has an ethereal feel with lots of subtle syncopation and unusual rhythms. The fretless bass plays off-beat rhythms throughout, Pizzicato Strings are played on the Piano and String tracks. On the Guitar track, the Atmosphere changes to Brightness at B. T=130

Smiling - 70s Rock - ev8 feel [SMILING.STY]

70s Rock with even 8th feel. There is a rhythmical 8th note push into the 3rd beat of each bar. The Style works well with alternating phrases of 2 chords per bar - for example - Dm to G7 or C to F etc. The bass is fairly busy, playing pick-ups and connecting lines. A more driving feel and add brass fills at B. T=140

Sparkle - 80s Rock & Roll [SPARKLE.STY]

80s Rock and Roll - loud, basic and kickin' - with an even 8th feel. In this style, all instruments push into every 3rd bar of 4 (bars 3, 7, 11, 15). The B-section has a powerful feel produced by the low tom figures. T=130

Startup - Classic 80s ev8 Rock [STARTUP.STY]

The rhythmic theme of this medium tempo rock style is a strong 'one' followed by a push into beat 3. The Finger Electric Bass plays this push, the Acoustic Piano plays repeated high 8th-note chords, the Rock Organ plays a pad with fills and the Electric Guitar (detuned clean) plays mainly high staccato chords on 2 & 4. The drums provide a strong backbeat throughout. At B, the guitar mixes it up a little, the piano plays a less repeated high comp and the intensity is increased.

Truckin - Jamaican flavored Rock [TRUCKIN.STY]

The bass and guitars frequently push into beat 3 in this upbeat style. The 12-string guitar plays a strumming pattern, the Clean Electric Guitar plays a combination of high chord comps and some short note fills, the Jazz guitar plays a comping-with-fills approach at A, and changes to muted guitar staccato thirds at B. The drums play a strong backbeat with the addition of percusion (congas & bongos and tambourine at B). T=140

Turning - Heavy ev8, 70s Rock [TURNING.STY]

Notice the rhythm section 8th note pushes in the A section. The Overdrive Guitar plays some 16th note fills at the end of each 2-bar phrase. At B, the feel moves to a more driving 4-to-the-bar feel with heavy drums. T=117

Velvet - Classic ev8, 80s Rock [VELVET.STY]

This style features a 2-bar rhythm pattern throughout; an 8th-note push into bar 2, followed by the '& of 1' of bar 2. The drums play a fairly typical back-beat rhythm, the bass plays repeated 8th-notes, distorted guitar and electric piano 2 are comping with some fills. The strings provide a quiet pad.
Money Back Guarantee
Unconditional 30-Day Money Back Guarantee on all products purchased from PG Music Inc.
Contact Info
PG Music Inc.
29 Cadillac Ave Victoria BC Canada V8Z 1T3
Sales: 800-268-6272, 250-475-2874,+ 800-4746-8742*
* Outside USA & Canada where International Freephone service is available. Access Codes
Tech Support: Live Chat, support@pgmusic.com

Online now
Need Help?
Message from PGMusic.com sales and support team
Hi, have any questions? We're available to text chat.
Message from PGMusic.com sales and support team
Hi, have any questions? We're available to text chat.