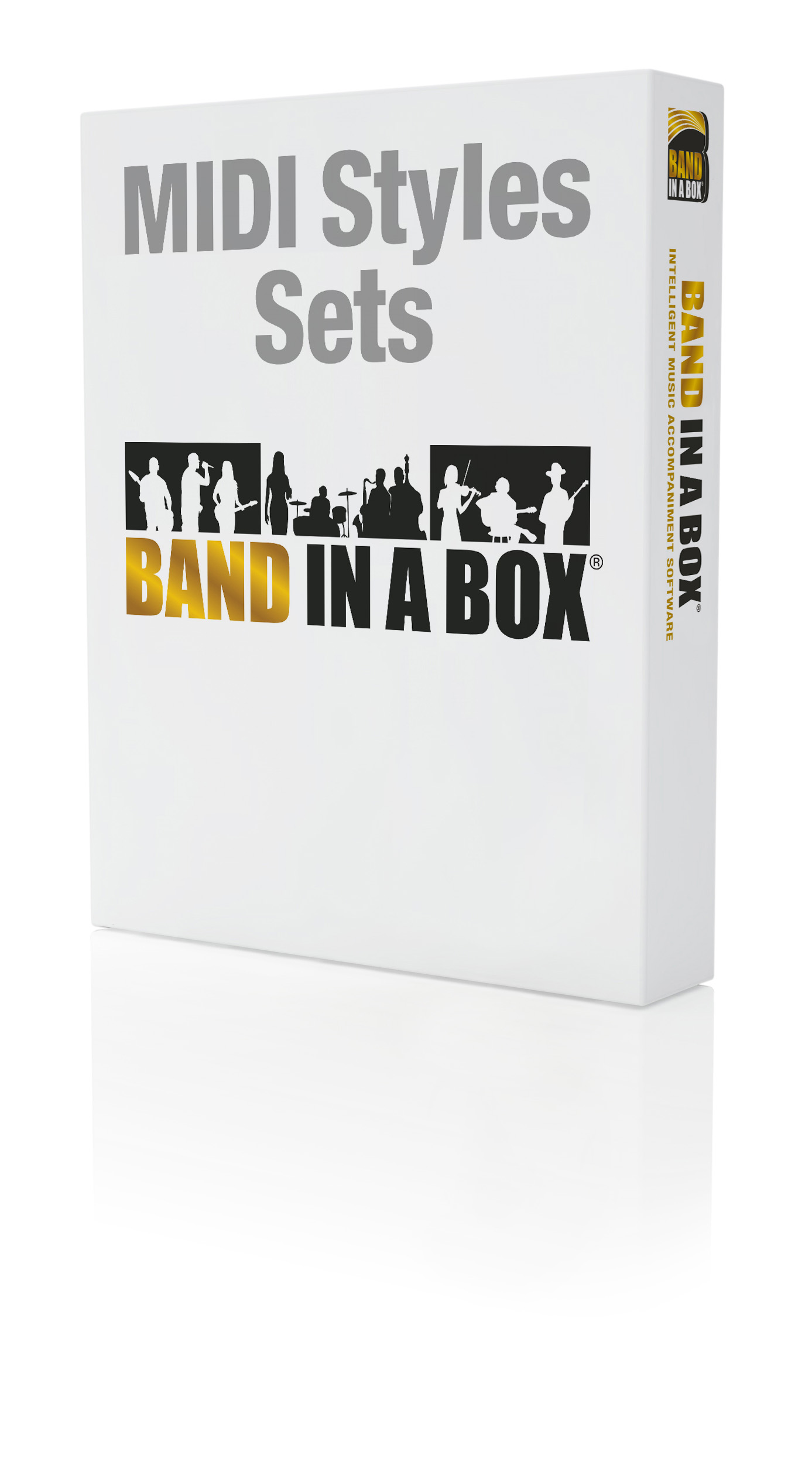 MIDI Styles Set 76: Salsa Moderna
This styles set is inspired by authentic Salsa performances by world-renowned recording artist Rebeca Mauleón. We can say for a fact that she wrote the book on Salsa – in fact, her book, The Salsa Guidebook by Rebeca Mauleón, (Sher Music, Inc), is considered by many to be the bible of Salsa.
Bomba Fast - Lively Puerto Rican [BOMBFST.STY]

Lively Puerto Rican bomba rhythm emphasizes 5-note Cuá pattern, here played on the jam block.  The bass and piano typically play Cuban-based tumbao and montuno patterns (respectively), the Cuban clave pattern is insinuated. T=230

Bomba Medium - Puerto Rican [BOMBMED.STY]

Even 16 Salsa at a slightly slower tempo. Modern Puerto Rican setting, the timbales player handles the cuá on either jam block or cowbells, the conga player plays 2 congas & the bongo player plays the guícharo, maracas or cowbell. T=110

Conga Modern - Cuban Salsa [CONGMOD.STY]

Even 16 Cuban style w/ timbales in the bombo's role, accenting the 2+ on the low drum. Variety of bell parts and a 2-drum conga part. Piano and pass patterns insinuate traditional montuno and tumbao-playing. T=125

Cumbia Modern - Colombian [CUMBMOD.STY]

Even 8 Salsa, modern Colombian-style. Minimalist modern cumbias keep syncopated high drum pattern but replace the tambora with timbales playing the fills; repeated jam block pattern playing a 1/4 note followed by two 8th notes. T=190

Guaguancó Modern - Cuban dance [GUAGMOD.STY]

Even 16 Salsa style.  A typical 3-member Salsa band may simplify and share the Guaguancó clave, palitos, and conga patterns.  A trap set player can play minor patterns and fills to free the conga drummer for basic melody and bongo for the quinto. T=1022

Guaracha with 2-3 Clave pattern [GUARA23.STY]

Modern Cuban Guaracha with 2-3 clave rhythm, the primary style played in salsa music.  Faster than son, with each beat 4 accented.  Clave is present in timbales patterns such as the cáscara (stick pattern on the sides of the drum) and various 2-bar bell patterns in the montuno.  T=200

Guaracha with 3-2 Clave pattern [GUARA32.STY]

Even 8 Salsa Style.  Son-derived w/ majority of fills and breaks on the 3-side of clave and accent on beat 4 of each bar.  The piano Montuno outlines the clave; the bass also tends to emphasize the 3-side of the clave. T=180

Latin Jazz Cha Cha [LJ_CHA.STY]

Even 8 Salsa Cha Cha with a Jazz flavor, more syncopated overall accompaniment style – especially piano and bass.  Better suited to faster tempos than the ChaSals.sty, with slightly more contemporary fills and more modern harmony.  T=135

Merengue Fast - Modern Dominica [MERFAST.STY]

This fast, modern Dominican merengue features several breaks and stops, and a more on-the-beat feel with the bass.  Piano patterns have changed dramatically from the more traditional merengue típico style, opting for simpler, chordal comping.  T=138

Merengue Slow - Modern [MERSLOW.STY]

Even 16 Salsa.  Modern merengue at slow tempo is simple w/ 2-drum conga pattern identical to Puerto Rican Seis and the Cuban pachanga.  Commonly played with no tambora - only congas and the guira.  "Restrained" bass and piano. T=115

Mozambique Cuban - Modern Salsa [MOZCUBA.STY]

Even 16th post-revolutionary Cuban Mozambique style w/ distinctive 16th-note push into beat 3 of each bar.  More elaborate version of Cuban Carnaval conga rhythm.  Bass, piano emphasize Bombo accent on "and" of beat 2 on the 3-side of Clave.  T=118

Mozambique NYC Modern Salsa [MOZNYC.STY]

The New York version of Mozambique simplifies the bombo parts.  Timbales player plays the Mambo or Cha bell while accenting the "and" of beat 2 of the 3-side of Clave on low Timbal.  Melody played on Congas as in Salsa band formats.  T=118

Plena Fast - Puerto Rican Salsa [PLENAFST.STY]

Even 8 feel.  This Plena adds contrasting bell patterns, including one that shows the influence of Trinidadian calypso in a constant 8th-note, 2-bell pattern alternating between low and high-pitched bells.  T=240

Plena Medium - Puerto Rican [PLENAMED.STY]

The simple Plena rhythm is traditionally played on Panderos or Panderetas (frame drums).  In Salsa bands the bass can alternate between an on-the-beat approach and syncopated Tumbao.  Piano patterns tend to be quite simple w/ implied clave. T=200

Songo 4 - Fast Modern Cuban Sal [SONGO4.STY]

Even 8, busier, faster and more syncopated than the more Salsa-oriented Guaracha, this Cuban Songo style features more variation on the congas and timbales.  T=210

Son Montuno with 3-2 Clave patte [SONMN32.STY]

Fast even 8th feel.  Cuban son-montuno adds a single conga drum to the rhythm section of bongos/bell, maracas and claves.  The bass and piano patterns emphasize the 3-side of clave, with the piano eventually arpeggiating more. T=170

Timba - Modern Cuban Salsa [TIMBA.STY]

Even 8th feel.  Cuban timba is more in-your-face and busy, but still rooted in the Son.  Primary instruments are almost continuously ad-libbing!  Bass and piano have roots in the Son, Guaracha, and Songo, with unusual accents and rhythmical play around the Clave. T=200
30 Day Money Back Guarantee
Unconditional 30-Day Money Back Guarantee on all products purchased from PG Music Inc.
Contact Info
PG Music Inc.
29 Cadillac Ave Victoria BC Canada V8Z 1T3
Sales: 800-268-6272, 250-475-2874,+ 800-4746-8742*
* Outside USA & Canada where International Freephone service is available. Access Codes
Tech Support: Live Chat, support@pgmusic.com

Online now
Need Help?
Message from PGMusic.com sales and support team
Hi, have any questions? We're available to text chat.
Message from PGMusic.com sales and support team
Hi, have any questions? We're available to text chat.