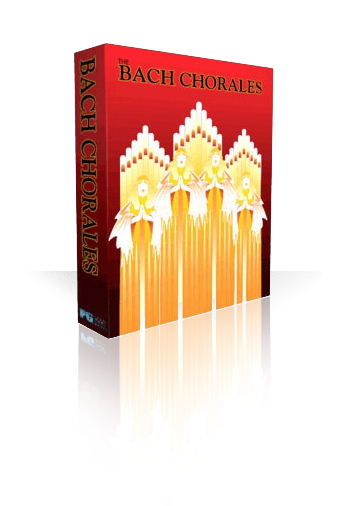 The Bach Chorales
Volume 1 & 2
The Bach Chorales is a professional, fully featured music program containing inspiring performances of Johann Sebastian Bach's famous Chorales. Listen to a professional choral ensemble sing some of Bach's most enchanting compositions, complete with a detailed multimedia history of the life and times of Johann Sebastian Bach.
We've recorded each voice (soprano, alto, tenor and bass) on a separate track, allowing you to listen to each part independently. Powerful multimedia features let you study the arrangements, hear the music, and sing along with a top chamber ensemble.
This interactive program contains high quality vocal music, a fascinating history of Johann Sebastian Bach, and a timeline of his life. With seamlessly integrated MultiTrack audio, MIDI, chord symbols, lyrics, and music notation, The Bach Chorales turns a typical sound card equipped PC into a vocal performance powerhouse!
With The Bach Chorales we encourage you to "join the group". The music is presented in different forms for your study and enjoyment:
audio (with full muting and soloing capabilities for each part)
printable musical notation with lyrics, which are synced to the audio track
piano keyboard display of the individual parts and MIDI format for further study.
a mini mixer, which allows complete soloing, muting, volume and panning capabilities for each voice.
While studying a certain section you can loop the section, so that it will play repeatedly. You can isolate any one voice as the four parts have been recorded with total separation. When you feel like you're ready to "join the group" , you can mute the part that you are singing and really feel like you are pulling your weight 100% in the performance of this Chorale. Of course, you might prefer to just sit back and enjoy this beautiful music. You can do this by using the 'Play All' feature, or you can set up your favorites list. For more control over the individual tracks, including muting and soloing, panning and volume etc., click on the 'mini mixer' button to get the audio controls window.
Hours of beautiful listening music!
Play The Bach Chorales through your computer speakers for hours of listening enjoyment. Playback continues in the background of other programs so you can listen to your favorite music while you work. Select your own playlist of favorite songs, or let the program automatically play the entire library. All you need is a personal computer and a love of Bach!
Learning vocal parts has never been easier!
Separate audio vocal tracks for each part (soprano, alto, tenor and bass).
Solo, mute, combine and mix the singing tracks independently.
Transpose the music to the key of your choice.
Focus on any section with the versatile loop feature.
Slow parts down for further study with the 1/2 time feature.
Choose vocal and/or instrumental playback.
Print all the parts as a full-size 4-part study score.
Versatile Multimedia Features:
Control audio playback with the mini-mixer window.
Transpose or change tempo 'on-the-fly'.
Jump to any position in the song.
Jukebox mode for continuous play.
Mark and play your favorite songs.
Adjust Volume, Panning settings for individual parts.
Split the Piano into Right and Left hand parts automatically.
Play along with the performance in real time on any instrument.
The Bach Chorales Includes:
Over 25 songs per volume
Artist Biography
Inspiring photographs
And more...
Money Back Guarantee
Unconditional 30-Day Money Back Guarantee on all products purchased from PG Music Inc.

BUY The Bach Chorales Volume 1 and 2 and DOWNLOAD NOW! $49 each
PG Music Inc. 29 Cadillac Ave Victoria BC V8Z 1T3 Canada
Sales: 1-800-268-6272, 250-475-2874, + 800-4746-8742*
*Outside USA and Canada where International Freephone service is available.

Online now
Need Help?
Message from PGMusic.com sales and support team
Hi, have any questions? We're available to text chat.
Message from PGMusic.com sales and support team
Hi, have any questions? We're available to text chat.