Country RealPAKs Volumes 1-19
Looking for Country RealTracks and RealDrums? PG Music makes it easy with Country RealPAKS 1-19!
Country RealPAKs 1-19 include a collection of PG Music's popular RealTracks and RealDrums for Country. These are not samples, but full recordings by professional musicians that replace the MIDI track in your arrangement and play along in sync to the chord progressions you enter.
Purchase all 429 RealTracks Sets with over 3,500 RealTracks (3,700+ hours of studio musician audio recordings) in the Band-in-a-Box® 2023 UltraPAK, UltraPAK+ or Audiophile Edition.
RealTracks and RealDrums sound real because they ARE real! Add a human element to your Band-in-a-Box® arrangements with RealPAKs!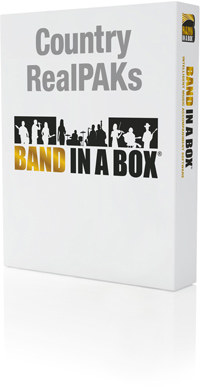 Money Back Guarantee
Unconditional 30-Day Money Back Guarantee on all products purchased from PG Music Inc.
Contact Info
PG Music Inc.
29 Cadillac Ave Victoria BC Canada V8Z 1T3
Sales: 800-268-6272, 250-475-2874,+ 800-4746-8742*
* Outside USA & Canada where International Freephone service is available. Access Codes
Tech Support: Live Chat, support@pgmusic.com
Q: Can I make songs using RealTracks that sound as good as your demos?
A: Yes, you certainly can! Our demos are composed and rendered entirely in Band-in-a-Box on a typical computer. We don't use any other programs or special equipment to 'make the demos sound better'.
Q: What is your best RealTracks package?
A: You can get the most RealTracks by buying either the UltraPAK or UltraPAKPlus.

Online now
Need Help?
Message from PGMusic.com sales and support team

Hi, have any questions? We're available to text chat.

Message from PGMusic.com sales and support team

Hi, have any questions? We're available to text chat.

<