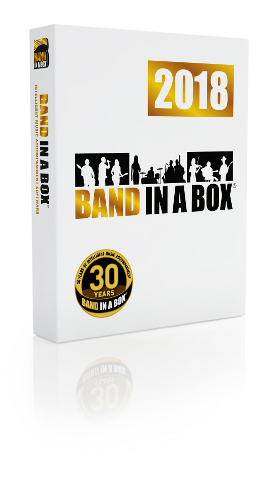 What is Band-in-a-Box®?
Band-in-a-Box® is an intelligent automatic accompaniment program for your multimedia computer. You can hear and play along to many song ideas and go from "nothing" to "something" in a very short period of time with Band-in-a-Box® as your "on demand" backup band.
Band-in-a-Box® is so easy to use!
Just type in the chords for any song using standard chord symbols (like C, Fm7, or C13b9), choose the style you'd like, and Band-in-a-Box® does the rest, automatically generating a complete professional-quality arrangement of piano, bass, drums, guitar, and strings or horns in a wide variety of popular styles plus optional live audio tracks with RealDrums and RealTracks.
And that's not all...
Band-in-a-Box® is a powerful and creative music composition tool for exploring and developing musical ideas with near-instantaneous feedback.
Over the years many features have been added to Band-in-a-Box® – Notation and Lyrics, Piano Roll, 16-channel MIDI Multitracks, Harmonization, the StyleMaker and StylePicker, a live performance Conductor window, Medley Maker, and 24 –substyle Multistyles. The Soloist and the Melodist are popular "intelligent" features that generate professional solos or even create whole new songs from scratch. RealDrums adds the human element of a live drummer while RealTracks add even more live session musicians, bringing the entire Band-in-a-Box arrangement to life. The Audio Chord Wizard has the amazing ability to analyze, extract, and show the chords from audio recordings on-screen and then write them to the Band-in-a-Box chord sheet.
The inclusion of digital audio features makes Band-in-a-Box® the perfect tool for creating, playing, and recording your music with MIDI, vocals, and acoustic instruments. Band-in-a-Box for Windows® can also record an acoustic instrument or voice to add to the composition, with processing through its own DirectX audio effects. Its built-in TC Helicon audio harmonies will turn your audio track into multiple harmony parts or adjust its pitch, with vibrato and scooping effects for realistic vocal styles and up to sixteen choral parts.
You can print out your finished creation with lyrics, chords, repeats and endings, DC markings and codas, or save it as a graphics file for web publication or to e-mail to a friend. And when you're ready to let others hear your composition, you can burn it directly to an audio CD. Or save your composition as a Windows Media File (or in any other compressed formats you have) for a file that's "Internet ready."
You'll have even more fun making automatic medleys, playing your favorite song lists in the Band-in-a-Box Jukebox, and singing along to your Karaoke files with CDG graphics.
Learn about the features released with previous versions here.
What is RealBand?
RealBand is a fully-featured and powerful music arranging, sequencing, and digital recording program.
It combines the most popular features from PG Music's PowerTracks Pro Audio and Band-in-a-Box programs into an all-in-one sequencing program with automatic accompaniment.
With RealBand you can create an arrangement with Band-in-a-Box tracks; type in the chords, add RealTracks and RealDrums that follow the chord changes, add your own tracks, and then edit and produce the finished song without ever leaving the program!  RealBand is loaded with powerful features that make it easy to produce your own song arrangements as if you were in the recording studio with top session musicians.
RealBand offers powerful features for musicians, students, and songwriters.  With intelligent automatic arrangements, RealTracks live instrument tracks, RealDrums live drum tracks, the amazing Audio Chord Wizard, seamlessly integrated digital audio/MIDI recording, built-in DirectX effects, and notation, RealBand turns a typical PC into a music production powerhouse.
Money Back Guarantee
Unconditional 30-Day Money Back Guarantee on all products purchased from PG Music Inc.
Contact Info
PG Music Inc.
29 Cadillac Ave Victoria BC Canada V8Z 1T3
Sales: 800-268-6272, 250-475-2874,+ 800-4746-8742*
* Outside USA & Canada where International Freephone service is available. Access Codes
Tech Support: Live Chat, support@pgmusic.com
Q: How do I get the latest version of Band-in-a-Box?
A: We have packages for first-time or existing customers. Use the convenient chart to find the right package for you.
Q: Can I really have the entire UltraPAK shipped pre-installed on USB 3 hard drive?
A: Yes, in addition to e-delivery/download, you can choose during checkout to get a physical backup copy hard drive for only $25 US (free shipping). You can use Band-in-a-Box directly from the hard disk, or copy it to your computer.

Online now
Need Help?
Message from PGMusic.com sales and support team
Hi, have any questions? We're available to text chat.
Message from PGMusic.com sales and support team
Hi, have any questions? We're available to text chat.