PowerTracks Pro Audio 2020 Features
PowerTracks Pro Audio is a full-featured, multi-track music sequencing and digital audio recording program. PowerTracks Pro Audio includes powerful and unique features such as: The Audio Chord Wizard, which automatically and accurately figures out the chords from MP3/WMA/WAV audio files, the TC Helicon Vocal Harmonizer to add harmonies or pitch correct your audio tracks, and RealDrums which allow you to instantly generate audio drum tracks that are real recordings of drummers - not single drum hit samples but full recordings lasting 1 to 8 bars.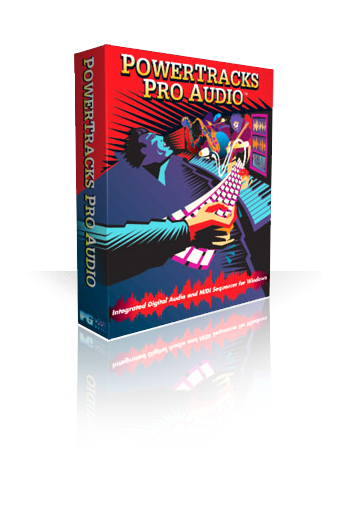 New features in PowerTracks Pro Audio 2014
The new PowerTracks Pro Audio 2014 incorporates many new features and enhancements, including suggestions from users of the program as well as our own "wish list."
The user interface has been reorganized for easier and more intuitive use. The toolbar buttons are arranged in groups according to function.
New Node-based automation is now available to automate your mixes with precise volume cuts, boosts, and fades on any track.
The Tracks Window now lets you resize track heights individually by dragging the border with the mouse.
Vocal Synth support automatically generates synthetic vocal tracks from a MIDI track that contains lyrics.
Drag-and-Drop from the Tracks Window to another program now supports 3 more file formats: MP4, M4A, and MP3 (in addition to WAV and WMA).
MP4 and M4A files can now be dragged and dropped into the Tracks window.
Import Wave dialog now supports MP4 and M4A.
If, during editing, there is currently a sustained note in the notation window, on a guitar track, in editable mode, and you click on a guitar string, the note will be assigned to that string.
Chords window font, and Notation window fonts, will likely look smoother on many systems.
Options to display full measure rests as slashes on each beat of the measure.
Current Note indicator on the Notation Window now shows transposed value if notation is transposed.
Nice handwritten "Real" looking Chords Font added.
Improvements made in entering and viewing guitar notation..
Easier method of guitar tab entry.
Improved Drop Station in the Tracks Window with quadrants for different target file types.
…and many more!
30 Day Money Back Guarantee
Unconditional 30-Day Money Back Guarantee on all products purchased from PG Music Inc.
PG Music Inc. 29 Cadillac Ave Victoria BC V8Z 1T3 Canada
Sales: 1-800-268-6272, 250-475-2874, + 800-4746-8742*
*Outside USA and Canada where International Freephone service is available.

Online now
Need Help?
Message from PGMusic.com sales and support team
Hi, have any questions? We're available to text chat.
Message from PGMusic.com sales and support team
Hi, have any questions? We're available to text chat.