PowerTracks Pro Audio 2022 Features
PowerTracks Pro Audio is a full-featured, multi-track music sequencing and digital audio recording program. PowerTracks Pro Audio includes powerful and unique features such as: The Audio Chord Wizard, which automatically and accurately figures out the chords from MP3/WMA/WAV audio files, RealDrums which allow you to instantly generate audio drum tracks that are real recordings of drummers - not single drum hit samples but full recordings lasting 1 to 8 bars, and more!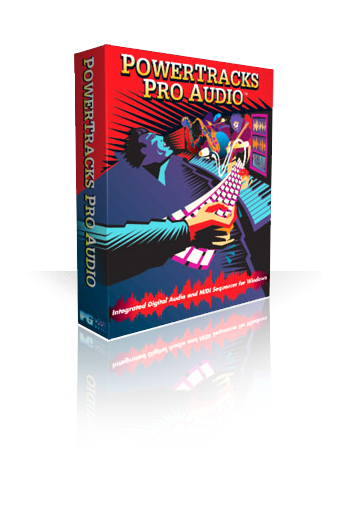 New features in PowerTracks Pro Audio 2015
The new PowerTracks Pro Audio 2014 incorporates many new features and enhancements, including suggestions from users of the program as well as our own "wish list."
Load and Play Videos. Now you can load videos that you have already downloaded from YouTube or elsewhere into the PowerTracks Video Window. The audio is extracted from the video to the audio track, and you can slow down video and audio to help with learning and transcription, with Hi-Quality audio preserved at extreme tempo slowdowns.
Direct support for 64-bit VST plugins using jBridge. Since PowerTracks has built-in support for jBridge, you just use your plugins as you normally would, by selecting 32- or 64-bit plugins within PowerTracks. (JBridge is a third party product. You can purchase jBridge from PG Music.)
Live Transpose for audio tracks, with Hi Quality Transpose in semitones and cents. Slow down and transpose any audio on the fly.
Vocal Synth support automatically generates synthetic vocal tracks from a MIDI track that contains lyrics.
On-screen Relative Tempo, with setting from huge slow down (12%=1/8 of original tempo) to big speed up (200%=2x original tempo).
Live control of output Tempo and Transpose, to slow down and/or transpose any song or sequence in real time. With the high quality Elastique tempo and pitch shifting, this allows you to slow down or transpose over extreme ranges with great quality, which is a big help for learning or transcribing music, from audio or videos.
Big Piano Window added. This is an on-screen piano window, configurable to any size, number of octaves, display of note names and more. If you find a MIDI file of piano and like to learn by watching the on-screen piano (or want to make a YouTube video showing an on-screen MIDI piano), this window is for you!
Program GUI is improved.: - Tracks Window faster redraws, less flicker when highlighting etc. - Popup dialogs for # entry are closer to the location of a mouse click. - Main menu is re-organized and simplified (File-Edit-Render-Action-Block-Options-Window-Help). - Easy selection of fonts in the Chords Window, by combo box in the Chord Options dialog.
Automatic code to skip over plugins that had problems when scanned in previous runs of the program.
Automatic track color for Tracks Window. The track colors show different shades for odd/even track number, making the tracks stand out. The track color is red during actual recording.
Write Acidized Files. You can now write the Acidized information such as tempo, root note and the tempo signature to .WAV files.li>
Nice handwritten "Real" looking Chords Font added.
Improvements made in entering and viewing guitar notation..
Easier method of guitar tab entry.
Improved Drop Station in the Tracks Window with quadrants for different target file types.
…and many more!
30 Day Money Back Guarantee
Unconditional 30-Day Money Back Guarantee on all products purchased from PG Music Inc.
PG Music Inc. 29 Cadillac Ave Victoria BC V8Z 1T3 Canada
Sales: 1-800-268-6272, 250-475-2874, + 800-4746-8742*
*Outside USA and Canada where International Freephone service is available.

Online now
Need Help?
Message from PGMusic.com sales and support team
Hi, have any questions? We're available to text chat.
Message from PGMusic.com sales and support team
Hi, have any questions? We're available to text chat.